AT&T agrees to buy Time Warner for $85.4 billion; Trump promises to block the deal if president
46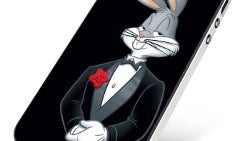 If content is King in the land of mobile devices, AT&T is wearing a rather large crown following the announcement tonight that it has agreed to buy Time Warner for $85.4 billion. So what did the nation's second largest carrier get for all of that money? For starters, it now owns the iconic Warner Brothers studio which is full of reels and reels of hit movies to stream to subscribers. The
Harry Potter
series and the
Batman
franchise now belong to AT&T. Warner Brothers also owns a stable of famous cartoon characters; imagine Bugs Bunny holding an iPhone instead of a carrot and repeating his famous line, "What's up Doc?"
Along with the purchase comes a number of cable properties such as CNN, HBO, TBS and TNT. The deal also gives AT&T 10% of streaming video service Hulu. Nearly 30 months ago,
AT&T picked up DirecTV for $48.5 billion
. As of June, the company counted 142 million wireless subscribers and 38 million pay TV subscribers.
A major question tonight is whether this deal makes it past antitrust regulators. As it is, Republican presidential candidate Donald Trump said tonight about the deal, "It's too much concentration of power in the hands of too few." Trump said that if he wins the election on November 8th, he will block the transaction. However, with CNN's pro-Clinton coverage of the election, this seems more like Trump's usual attempt to get revenge on anyone that doesn't treat the thin-skinned billionaire with the deference Trump believes he is due. The Clinton camp has not yet commented.
Senator Richard Blumenthal (D-Conn.) says that he will examine the transaction, giving it "rigorous evaluation and serious scrutiny." The senator says that he will examine the acquisition to forecast the effect it would have on consumers' pocketbooks. AT&T said that the U.S. Department of Justice will investigate the deal for any antitrust issues.
Time Warner shareholders will receive $107.50 for each share, with half in cash and half in AT&T stock. AT&T says that the deal will add to its earnings in the first year after closing.
source:
Reuters
Recommended Stories