ASUS announces Transformer Book Windows 8 tablet convertible
4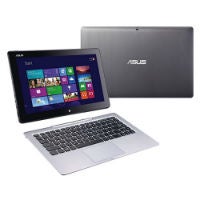 If you've ever had the thought, "I really like the ASUS Transformer Pad Android tablet, but I wish it were slightly bigger and running Windows 8 instead," you're in luck, because that's exactly what you'll get with the ASUS Transformer Book T300. Asus just announced the new tablet convertible which runs full Windows 8 and allows you to detach the screen from the keyboard to use it as a tablet.
The ASUS Transformer Book T300 is a 13.3-inch 1920 x 1080 tablet hooked to a keyboard dock (or a 13.3-inch 1080p laptop with detachable tablet display, if you prefer). It runs full Windows 8 or Windows
8 Pro
, and the best news of all is that it is powered by Intel's new Haswell chipset (it will come in i3, i5, and i7 models), which should mean pretty solid battery life. ASUS says the device will get "up to eight hours battery life", but it doesn't distinguish the tablet battery life from when it's hooked to the keyboard, so we're not sure what to expect there.
The device has a similar design to the Transformer Pad, and will come with "up to 8GB of RAM", your choice of 64GB, 128GB, or 256GB of SSD storage, and both a front 720p camera, and rear 1080p camera. Most of the ports will be in the tablet, which will feature 802.11n, Bluetooth 4.0 (optional), USB 3.0 port, Micro-HDMI
1.4
port, microSD card slot, and 3.5mm headphone/mic jacks. The keyboard dock only has USB 3.0 ports. The entire unit will weigh 1.9kg (~4.2lbs), or the tablet alone will be a hefty 1.1kg (~2.4lbs).
No word yet on pricing or availability.
source: ASUS