ASUS: Google Nexus 7 (2013) to launch in the U.K. on August 28th
2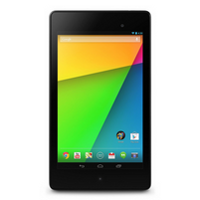 The new
Google Nexus

7 (2013)
tablet has already been available in the U.S. In fact, some owners of the slate have already been
complaining about problems with the GPS feature on the device
. As we already told you on Friday morning, Google is said to be working on a fix. And actually, as it turns out, the tablet's GPS has nothing to do with this story which is all about when those
tablet hungry buyers in the U.K.
will be able to buy the new Nexus 7 for their very own.
A published report on Friday morning says that
August 28th
will be the launch date in the U.K. for the sequel to the ASUS manufactured Google Nexus 7 slate. The prices will be £199.99 ($311 USD) for the 16GB model and £239.99 ($373 USD) for the 32GB variant.
Strangely enough, even though the August 28th launch date allegedly comes straight from ASUS itself, U.K. retailers
PCWorld and Currys still have the same September 13th release date on their web site
that we had told you about late last month.
Thanks to the higher 1920 x 1200 resolution on the 7 inch screen, the new Nexus 7 has the
highest pixel density on a tablet
at 323ppi. The Tegra 3 SoC on the original model has been replaced by a quad-core 1.5GHz Qualcomm Snapdragon CPU and the Adreno 320 GPU. Android 4.3 comes pre-installed right out of the box.
source:
AndroidCentral