A collection of awesome, super high-res wallpapers for your Android, iOS, or Windows Phone device (February #2)
2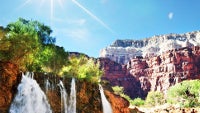 Another fortnight has come and gone by, giving us enough time to sift through thousands (literally) of royalty-free wallpapers and pick only the best. As per usual, we're not anchored to any one category, but are rather bringing in various styles into one place so that the majority of you can find at least one wallpaper for their Android, iOS, or Windows Phone device that works for them.
Most of these will make perfect scrollable wallpapers on 1080 x 1920 resolution screens, and a few will even fill the many, many pixels of the Quad HD (1440 x 2560) resolution displays on smartphones like the LG G3, Motorola DROID Turbo, Samsung Galaxy Note 4, Google Nexus 6, and so on. If your phone's display resolution is lower than that, then don't worry – your device will know what to do with it on its own and the end result will still be better than if you just went for a resolution-fitting wallpaper. Dive right in!
30+ Infinity Display wallpapers for phones with tall screens
50+ Beautiful high-res wallpapers, perfect for your LG G7, Galaxy S9, Pixel 2 XL, iPhone X, and others
50+ Awesome high-res wallpapers, perfect for your Galaxy S9, Pixel 2 XL, iPhone X, Huawei P20 Pro, and others
Beautiful, high-res smartphone wallpapers
Beautiful, dark wallpapers perfect for OLED smartphones
Expand timeline
Loading ...