$99 gets you the HTC ThunderBolt, but only if you live in Michigan?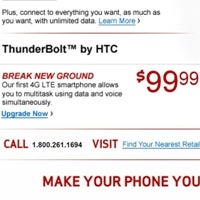 The HTC ThunderBolt is the first 4G LTE smartphone to be released by Verizon Wireless, so it carries a premium price of $249.99 (with 2-year contact). But we've heard that some Verizon customers
who live in the state of Michigan
have recieved a promotional email from the carrier saying that they can
purchase the HTC ThunderBolt for the low price of $99.99
.
So what's the catch
? The fine print points out that you have to renew your 2 year contract and you have to be at least 180 days since your last upgrade. Not too bad, as that is taking $150 off the regular 2-year price. Now it would be nice if Verizon would offer this deal to all their customers. What do you think?
Thanks to a friend for sending this in!