9 Clues: The Secret Of Serpent Creek goes mobile, Windows Phone first
2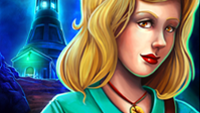 Surely, one cannot say that puzzles, quests and hidden-object games are the most popular types of games among players. However, these genres have their loyal fan base, which will fiercely defend the beauty of the gameplay. Yet, despite the not so big popularity, Artifex Mundi, one of the PC game companies that solely specialize in point-and-click quest games, have lately ported one of their latest PC games to the Windows Phone platform.
9 Clues: The Secret Of Serpent Creek is a gritty, dark-looking game, which mostly uses still 2D pictures to communicate with the player. The developers claim that the game will feel like a 50s horror story. Apart from the overall mood, the gameplay mostly consists of finding hidden objects, combining them in different ways and using them to solve various puzzles and quests.
It won't be fair to reveal a lot about the story of 9 Clues: The Secret Of Serpent Creek, but it mainly revolves around a young paranormal investigator, who is summoned to an odd, eery coastal town, where mysterious snake-like figures cause a lot of hassle to the local population. Moreover, a friend of the main heroine is endangered by these mysterious snake-like humanoids and when she arrives on the spot, it's obvious that things are not as simple as they seem and there is a bigger conspiracy behind the mystery of the weird town.
Taking into consideration that the PC version of the game didn't fare well due to its rough interface, only time will show if mobile gamers will fancy playing Artifex Mundi's puzzle on touchscreen Windows Phone devices. Although the first level of 9 Clues: The Secret Of Serpent Creek is free to play, an in-app purchase is required to unlock the full game.
Download 9 Clues: The Secret Of Serpent Creek (
Windows Phone
)