8.3" Nokia Lumia 2020 tablet with 1080p display, and 4.5" dual SIM Lumia revealed in testing
17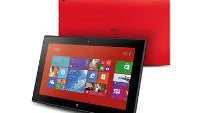 The upcoming
8.3" Nokia Lumia 2020
Windows tablet with 1080p display has revealed itself again as being tested in India, under the internal codename RX-115. It is expected to feature the same top-notch specs as the 10"
Lumia 2520
, namely a quad-core Snapdragon 800, 1920x1080 pixels IPS-LCD display, likely with the same
stellar peak brightness
, and, eventually, a stylus. As you can see from the leaked evaluation table below, the 8.3" Nokia slate will sport cellular connectivity via a nano SIM card module, too. We also get to see the RX-113 being in testing, which is speculated to be the international version of the 10" Lumia 2520.

Another nugget of information revealed from the testing authority comes in the form of confirmation for upcoming Nokia Lumia dual SIM device, codenamed RM-977, with a 4.5" display. We've already heard a couple of times that
dual SIM
Lumias are in tow as soon as Microsoft gets its Windows Phone ducks in a row to support the functionality, and now we have a more tangible proof.

Recommended Stories