8 protective cases for the up and coming Sony Xperia Z4v
4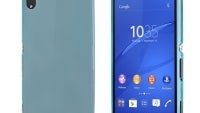 Strangely enough, the souped-up Sony Xperia Z4 that is the Verizon-exclusive Xperia Z4v won't be hitting retail on the originally suggested date, August 13. But case manufacturers couldn't wait until Sony and Verizon sort out their release schedule, as cases for the upcoming Quad-HD machine are in abundance already. Rounding them up for you before the Xperia Z4v is even on sale is a bit pointless at this stage, but hey — once the powerful Xperia hits the carrier's shops, you'll know where to look for accessories!
The Z4v is/will be Sony's first smartphone to sport a Quad HD (1440 x 2560 pixels) display. High-res screen aside, the handset isn't too different from the Xperia Z4 (released earlier this year in Japan) and the
Xperia Z3+
(which recently became available in many markets around the world). Running Android 5.1 Lollipop, the Z4v features an octa-core Snapdragon 810 processor, 3 GB of RAM, a 5 MP front-facing camera, a 20.7 MP rear camera, and an 8.6mm-thin water-resistant body. For a closer look at Sony's first Quad HD smartphone, check out
our Xperia Z4v hands-on
.