6,800 Starbucks stores are now allowing you to pay by waving your phone
3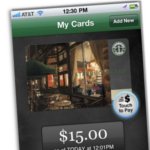 After successfully running trials in various markets across the country that include Seattle,
New York City
, and Northern California, Starbucks announced today its 6,800 stores nationwide will now allow
accept payments from cellphones
.
Specifically available for the
iPhone and BlackBerry smartphones
(no love for Android just yet), the free Starbucks app allows customers to load their accounts with money from sources like a credit card or PayPal. Once they've loaded on some money to their Starbucks account, they can them make payments by simply holding their phones in front of a scanner at a Starbucks register.
So if you frequent Starbucks, and own either a BlackBerry smartphone or iPhone, this new payment process will quickly get you in and out of the store without much wasted time in fumbling around your wallets for cash or a credit card. Although US customers can take advantage of this new payment process right now, there is no word whether it'll be rolled out internationally.
source:
NY Times
via
Textually