Starbucks expands its pay-by-smartphone app to 300 stores in NYC-Long Island area
1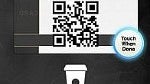 For many people, the day just would not start right without consuming that hot cup of java in the morning. Starbucks, though, has taken the morning caffiene fix and has turned it into a treat that can be had anytime of the day. And for those who make that daily trip over to the nearest Starbucks, the coffee house is working on a way to make paying for your beverage as easy as whipping out your smartphone.
As we
reported
, the Seattle based company has been testing an app version of its Starbucks card, Currently available for use with the Apple iPhone, the Apple iPod Touch and certain BlackBerry models, the testing has taken place at Starbucks outlets in Target stores, and locations in Seattle and Northern California.
With the app installed on your handset, a barcode is generated on the display which is then scanned at checkout. Considering that we are more likely to accidentally leave our Starbucks card at home rather than our smartphone, having the app downloaded on your phone seems to make sense. But we can't help but have a sneaky suspicion that the software is a back-door way for Starbucks to spread its message: Drink more coffee.
source:
AllThingsDigital