6 slim transparent cases for the iPhone 6
2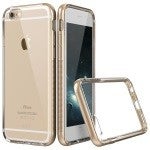 Those looking to buy a case for their iPhone 6 should definitely look into clear cases. The iPhone has an iconic design that doesn't lend itself to being tampered with at all, especially when typical case materials such as faux leather, TPU, and unapologetic plastic are involved. A clear case solves that problem while providing very good protection.
Some cases are just a basic transparent shell that lacks distinguishing features, but there are also products that combine clear plastic with TPU corners for extended shock absorption. Others follow Apple's design language and introduce anodized aluminum buttons to the mix that better preserve the iPhone 6's natural feel.
All in all, clear cases pack plenty of protection and style for their (inexpensive) money. So if you are going to look into them, start with these six items. Just tap the blue links in the slideshow, and they will take you straight to Amazon!