50 most popular titles on Apple App Store (part 2)
7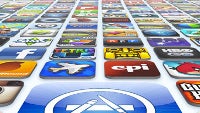 Happy 5th Birthday, Apple App Store
! Seem like it was yesterday when we first installed the original Angry Birds on our iPhones and look at you now – with over 800 app downloads per second and already passed through the 50th billion download milestone.
Since this is a special occasion, it deserves a special treatment. We've made a list of the 50 apps and games, ten for each year passed, that have made the App Store what it is today. We are
breaking it down in two parts
, and you can find the last 25 titles right below. Before blowing the candles this July 10 make sure that you check our alphabetical list and download what you miss from it, making yourself an even more respectable guest at the Apple party. After all, that's what the store is about – bringing fun to our lives.
Here is Apple's official statement about the occasion:
"From the 500 apps available at launch in 2008 to the more than 900,000 at your fingertips today, it's been a remarkably prolific five years for the App Store. To celebrate, we're giving everyone five landmark games and five groundbreaking apps for a limited time. Plus, look back at the key moments that have made the App Store the world's most innovative destination for apps."