3D gameplay on the dual-core LG Optimus 2X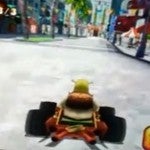 There are some fun 3D games preinstalled on the
LG Optimus 2X
, and we ran Shrek Kart HD to showcase the gaming capabilities of the powerful NVIDIA Tegra 2 chipset. As expected, the game performed flawlessly, as well as any other 3D game we threw at it in the office.
These dual-core chipsets are way ahead of any game currently on the market, since they run smoothly even on their less powerful brethren, so we can't wait for developers to rise up to the occasion, and grace us with some breathtaking graphics to justify the money we spend on a dual-core phone as bragging rights. After all, the Optimus 2X
scored
74.4 frames per second on the Neocore benchmark, in an utmost display that there is some next-gen power in the chipset under the hood.
NVIDIA offers what it calls
Tegra Zone
- its own app, where Tegra-related news mingle with recommended games for the platform. The company said it has big plans for this one, including games and other content developed specifically with the dual-core Tegra 2, and its future iterations in mind. In the meantime, enjoy a happy ogre, named Shrek, karting around in its four-wheeler on the 4" screen of the LG Optimus 2X.
More LG Optimus 2X coverage by PhoneArena:
FEATURED VIDEO
-
LG Optimus 2X Unboxing and Hands-on
-
LG Optimus 2X vs Apple iPhone 4: ultimate camera + video comparison
-
LG Optimus 2X Benchmark results
-
LG Optimus 2X Full HD 1080p video playback test
-
LG Optimus 2X vs Samsung Galaxy S vs Apple iPhone 4: Browser shootout