$23 billion deal spells the creation of an Indian telecom giant with 400 million subscribers
4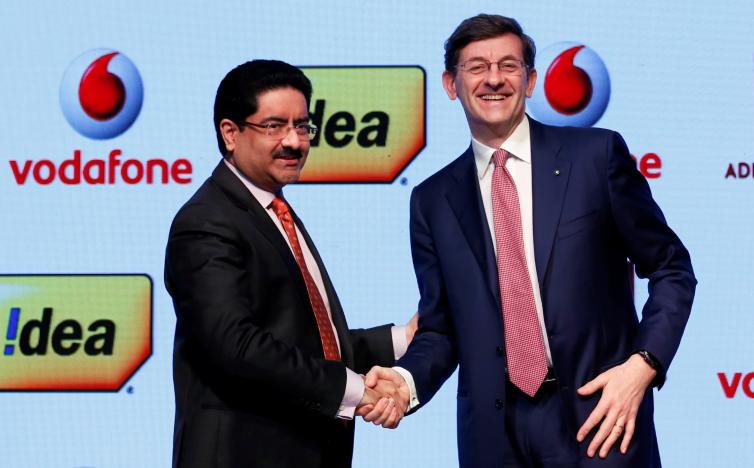 Kumar Mangalam Birla (left), chairman of Aditya Birla Group, shaking hands with Vittorio Colao (right), CEO of Vodafone Group, following the announcement of the merger between the two companies
Have you ever contemplated just how big of a number is 100,000,000 (one hundred million)? How about four times that amount? Well, as it turns out, this is roughly the volume of subscribers that a new Indian carrier is going to have, following today's announcement of a $23 billion merger between Vodafone India and Idea Cellular.
The combined entity will effectively become India's largest telecommunication company, enjoying about 40% of the country's mobile revenue. While colossal mergers of this kind are nothing too unfamiliar in today's world, the circumstances around this one are quite intriguing.
Many of our Indian readers know about the events that unfurled in their homeland over the last several months, but let us briefly summarize for everyone else: There is a very unique price war going on between carriers in the country ever since India's richest man, Mukesh Ambani, spent more than $20 billion to create a 4G VoLTE (Voice over LTE ) network called Reliance Jio. Jio had a commercial launch in September 2016 and has been
growing at a breakneck pace
, as many of its services are either very low-cost or free.
As a result, all other telecoms had to entirely rethink their strategy for the market, resulting in big consolidations such as the one we're observing today.
Vittorio Colao, CEO of Vodafone Group, expressed his opinion on the matter after the deal was announced:
We are very complementary. Idea is strong where Vodafone is weaker, Vodafone is strong where Idea is weaker.
As for the details of the merger, Vodafone will own 45.1% of the new entity, while Aditya Birla Group, Idea Cellular's parent company, will possess 26%. The remaining amount will be owned by various other shareholders, with the deal expected to close in 2018.
source:
Reuters
via
Neowin