2013 Toyota Avalon the first car to include Qi induction charging for your Nexus 4 or Lumia
13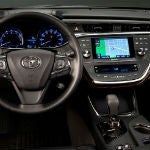 Induction charging (often mislabeled as "wireless charging") is one of those technologies that manufacturers are trying to push along, but the rollout is going somewhat slowly. But, now there is finally a car that includes Qi standard induction charging for your Nexus 4 or Lumia phone: the 2013 Toyota Avalon.
The Qi induction charging will be available as part of the 2013 Avalon's Limited and Hybrid Limited technology package, so it will bump up the price $1,750 and also include: radar cruise control, precollision system, and automatic high beams. So, if you're really looking for it, it'll end up costing you $40K for the Avalon Limited and $42K for the Avalon Hybrid Limited.
There isn't a huge number of smartphones that include the Qi-standard induction charging, but if you have an HTC DROID DNA, LG Nexus 4, HTC Windows Phone 8X, or Nokia Lumia 920, the Avalon may interest you. Or you can just get a desktop charger for quite a bit less. It's really up to you.