12.9-inch iPad Pro tipped for Q2 of 2015 with an A8X SoC
23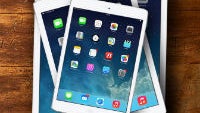 We have been on quite a long road regarding the often rumored 12.9-inch iPad Pro, but we still have a while to go. There have been rumors about the larger iPad for about one year, but the device isn't expected to be released until early in 2015. Of course, the closer we get, the more likely we'll get more accurate info, like what processor could be inside.
A new report from sources in Taiwan is saying that the larger iPad is planned for release in Q2 of 2015, and may be released along with the 3rd generation iPad mini, which was recently rumored to have its
release date pushed
until next year. The report also reiterates the idea that the iPad Air 2 will feature 2GB of RAM. But, the biggest news is that the iPad Pro is rumored to be using an upgraded A8X processor. This isn't a new idea for Apple, which used an A5X in the iPad 3, and an A6X in the iPad 4. There was no A7X chip, but there were also no Apple products released this past spring.
The "X" variants of Apple processors tended to boost GPU performance, which makes perfect sense for the larger iPad, given that it is expected to feature a 4K resolution display, and you need a solid GPU to push that many pixels.