10 screen protectors for the iPhone 6 that guard against scratches, drops, and smudges
3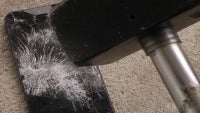 You love your iPhone. You also spent a mighty sum on it - especially if you went unlocked. These babies don't come cheap! Now, the iPhone 6 is such a gorgeous beast that putting it in a case - be it a discreet transparent plastic case or a big ol' bumper - feels like an attack against your senses. We feel your pain - we also want to hold onto that polished aluminum like nature (Apple) made it, but unless money isn't an issue, the iPhone 6 is an investment that needs to be protected.
Well, if you're not putting a case on it, at least slap an affordable screen protector that guards the iPhone 6's glass against scratches, scuffs, marks, annoying children, feral cats, and most importantly - drops and bumps. In case you don't know, replacing the screen due to damage or malfunction
can cost up to $109 sans tax and shipping
. And we can attest that phone drops sometimes happen completely unprovoked - you were just unlucky to be standing on gravel, and holding your iPhone with your palm bent a couple of inches in the wrong direction, with your fingers just a tad looser than they should have. Grr!
So, by all means, drop a screen protector on that glass. The best ones are borderline invisible and have awesome oleophobic coating that makes the screen feel silky smooth while protecting it from smudges. We've rounded up 10 PET-film and tempered glass-based offerings in different price ranges for you. If you are completely new to screen protectors, let
this article of ours
be your introduction to them.