10 of the best screen protectors for the Samsung Galaxy S5
3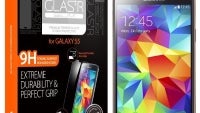 In need of good screen protection for the Samsung Galaxy S5? Worry not - there's plenty of options across all price points to choose for a smartphone this popular. As usual, there are PET-film, TPU, and tempered glass-based alternatives to consider. We're partial to tempered glass, as it offers the best scratch and impact protection, along with a great view and smooth oleophobic coating. But if TG's out of your budget or you prefer a plastic protector for some reason, there's always PET and TPU. Don't know what we're talking about?
Get your Master's degree in screen protection here
.
Below, we've rounded up ten products that we felt would satisfy anybody looking for Galaxy S5 screen protection. Of course, you're free to look for more, or throw your recommendations in the comments!