10 great wallet cases for the iPhone SE
12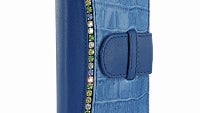 Nowadays, we've got so much stuff to cary in our pockets – keys, wallet, smartphone being the mainstays in our utility belt, with other accessories usually also making their way in our daily lives. This is often an annoyance when you just don't have that many pockets in your clothing, or can't fit everything in them due to smartphones being ginormous nowadays.
The
iPhone SE
already takes care of some of that trouble – as long as the user is happy with a 4-inch display, they can enjoy owning an incredibly compact handset, which is much easier to fit in most types of pocket and even leave room for something else. But, to go even further, you can combine your phone and your wallet into a single item with the help of a wallet case – a typically flap-style protector, which has a few pockets for cash, credit, or ID cards.
Surely, there are hundreds of such cases available out there right now – especially when considering the fact that accessories that were compatible with the
iPhone 5
and
iPhone 5s
will fit the new iPhone SE like a glove. But we dug through a few online retailers and pulled up the most interesting, or premium-build cases we came across. Check them out below!