10 best leather cases for the iPhone 6 - part deux
1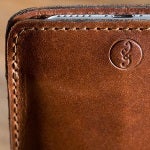 Shopping for iPhone 6 cases is a wonderful past-time! The iPhone is very popular and attracts the attention of all kinds of case makers, so for the longest time, owners of Apple's flagship have been privileged to a huge choice of accessories.
Where cases are concerned, leather is a classic and sophisticated option. Be it faux leather or the genuine thing, it never fails to add a touch of class while feeling especially good on the fingers.
In the beginning of the year, we presented
a fine selection of 10 leather cases for the iPhone 6
. Half a year later, we figured we'd fill you in on another tenner of similarly great quality leather cases!
Have a tour in the slideshow below. If you want to buy any of the cases in it, just tap the links in blue and they will take you straight to Amazon or the casemaker's online shop!