45+ of the very best Cyber Week phone deals available now
We may earn a commission if you make a purchase from the links on this page.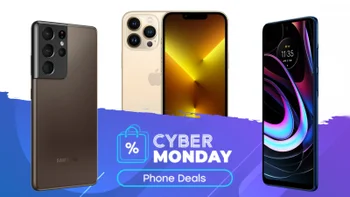 Cyber Monday is now over. However, don't think you're too late yet! Some of the deals have now expired, but many will continue to be active throughout the Cyber Week. There are still plenty of great smartphone offers at Best Buy, Walmart, Samsung, Amazon, so even if you missed on the shopping frenzy in the weekend, you still have a pretty high chance of scoring a great deal.

So... craving a specific smartphone? Maybe it's high time to grab one — here are the deals that have remained from Cyber Monday and Black Friday. See if anything tickles your fancy!
The best six Cyber Monday deals on phones available right now
Best Cyber Monday phone deals now

As we already stated, it is now Cyber Week. Some of the Cyber Monday and Black Friday deals on phones we saw are no longer available. Some will continue on throughout the week.

Samsung Galaxy Z Flip 4 deals

The eye-catching and beautiful Galaxy Z Flip 4 foldable phone is available from Samsung with a massive discount - up to $750 off with eligible trade-in. Best Buy had an offer on the Flip as well, but it has since expired.

Samsung Galaxy Z Fold 4 deals
The Z Fold 4 is by far one of the most exciting phones in the world right now! And right now, you can get it with a massive discount of well over $1000 with eligible trade-in at Samsung. Best Buy's deal on it has now expired.

Samsung Galaxy S22 series deals
Samsung's offers on the Galaxy S22 models still stand today. Best Buy's have changed and now they require activation with a carrier. However, they are still very good offers!

Samsung Galaxy A53 5G deals
Samsung's midranger, the Galaxy A53, is now more affordable than ever and you can get it for $100 off its usual price! The deal is at Amazon (Best Buy's offer has expired).

Samsung Galaxy S21 FE 5G deals
The Galaxy S21 FE is also available with a great deal right now. You get to save a lot of money if you trade in your phone with Samsung!
Apple iPhone 14 series deals
We all know that the iPhone 14 series are quite new and so the possibility of them getting a big discount is not that high. However, Walmart's Cyber Monday deals include great eGift card promotions for the
iPhone 14 Pro
and the
iPhone 14 Pro Max
. You can get a Gift card to spend on later purchases if you buy one of those powerful iPhones from Walmart.
Apple iPhone 13 series deals
Walmart's currently got eGift card promotions for the iPhone 13 Pro and the regular iPhone 13 as well. Keep in mind that those two phones are locked, so pay attention to this before you pull the trigger on your purchase.
Apple iPhone 12 series deals
Apple iPhone 11 series deals
Apple iPhone SE 2 deals
Google Pixel 7 series deals
Best Buy's deals on the Pixel 7 series have now expired. Amazon still stands (see the deal in the beginning of the article).

Google Pixel 6 series deals
Luckily, the deal on the Pixel 6 Pro is still live at Best Buy.

OnePlus 10 Pro deals
Motorola edge deals
If you're looking for a Moto phone, these are the deals available on them right now. Sadly you've missed many of the models as almost all Moto phones were discounted on Friday and during the weekend at Best Buy. However, Amazon's offers are pretty good as well, so check them out:

Sony Xperia deals
Get a Sony Xperia phone this Cyber Monday with an epic discount.

Are phones on Cyber Monday sold unlocked?
Yes, the majority of the phone deals are for unlocked phones, especially at Amazon. However, Best Buy and carriers also have Cyber Monday offers, and some of these are tied to a carrier contract. You should be able to get almost any phone unlocked with deals from Amazon or Best Buy, but do keep in mind to double-check the deal before you pull the trigger.

Is Cyber Monday a good time to get a new phone?
Yes, definitely! Cyber Monday deals at Best Buy and Amazon, especially, are rocking and such discounts are not available outside of these sales. Even carriers have better deals during shopping events, including Cyber Monday. Basically, if you want to get the best discount you can have on the phone you're eyeing, it's a great choice to go for it during Cyber Monday or Black Friday.