Samsung Galaxy A53 vs Galaxy S21 FE: what to expect
3
We may earn a commission if you make a purchase from the links on this page.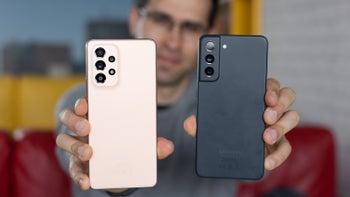 The
Galaxy A53
shapes up as the ultimate budget phone for 2022, but the
Galaxy S21 FE
is just a bit more expensive yet brings you a much more powerful processor and cameras.
So which of these two should you choose? Is it worth saving up or should you pay a bit more for a device that you use every single day?
It all starts with prices of course, as the A53 is expected to cost around $500, while the S21 FE carries a heavier $700 starting price. Interestingly, the more affordable A53 is actually due to beat the S21 FE in one key area: battery life! But that and the lower price might be its only wins.
There is only one way to find out, though, and that is with our in-depth comparison of the A53 vs S21 FE, so let's kick this off, but first, here are the...
Plastic construction on both
120Hz screen on both
Faster Snapdragon 888 chip on S21 FE
No headphone jack on either one
Only A53 5G has microSD card slot
S21 FE features more potent cameras
S21 FE is more expensive
Galaxy S21 FE

pros and cons

Display and Design
Both are plastic, but the S21 FE has narrower screen borders
Plastic is Samsung's favorite material when it comes to
budget phones
, and these two seem to fall in that category as both have plastic backs. And you also easily tell them apart: the S21 FE features a camera module that kind of blends with the frame of the phone, for that "flagship Samsung" look, while the A53 has a detached camera island on the back, which is kind of the older styling.
Being plastic, both are quite lightweight and comfortable to carry around, which is one thing that
budget phones
seem to do better than top-end, expensive device.
You also get IP68 water and dust protection on both, meaning they will survive a drop in water or a bit of rain. There is no headphone jack on either one though. Samsung kept it on the budget A series for years, but it is now removing it from the A53, and it's already gone on the S21 FE.
There is not much of a difference in screen size: the S21 FE is a bit smaller with a 6.4" display versus a 6.5" screen size on the A53, and while both use Samsung's AMOLED technology, the S21 is due with a dynamically refreshing 120Hz screen, while the A53 also supports 120Hz, but it is kind of stuck at that higher refresh rate, which should result in more power consumption. One detail worth mentioning is that the A53 being the cheaper phone also has wider borders around the screen compared to narrower borders for a more elegant look on the S21 FE.
The pair also share a discreet punch hole front camera, and both support image-based face recognition. The main biometrics, however, come in the shape of an in-screen fingerprint scanner.
Battery and Charging
The A53 might actually get a massive battery upgrade
Interestingly, the more expensive S21 FE features a 4,500mAh battery, while the budget A53 model is due with a massive, 5,000mAh battery cell that is just bonkers!
We do expect the larger size to also give a battery life advantage to the A53, which might just be a 2-day phone.
We don't have exact battery life numbers just yet, but we will be updating this article with our independent
battery tests
as soon as we test the pair.
One thing we are not certain is whether Samsung will provide a charger in the box. So far, leaks indicate that you'd need to buy your charger separately with the S21 FE, while the A53 might actually get one in the box, but that is preliminary information based on rumors.
The maximum charging speeds on both, however, is said to actually be the same at 25W wired charging and the S21 FE also supports 15W wireless charging.
Cameras
The S21 FE has a zoom camera, while the A53 does not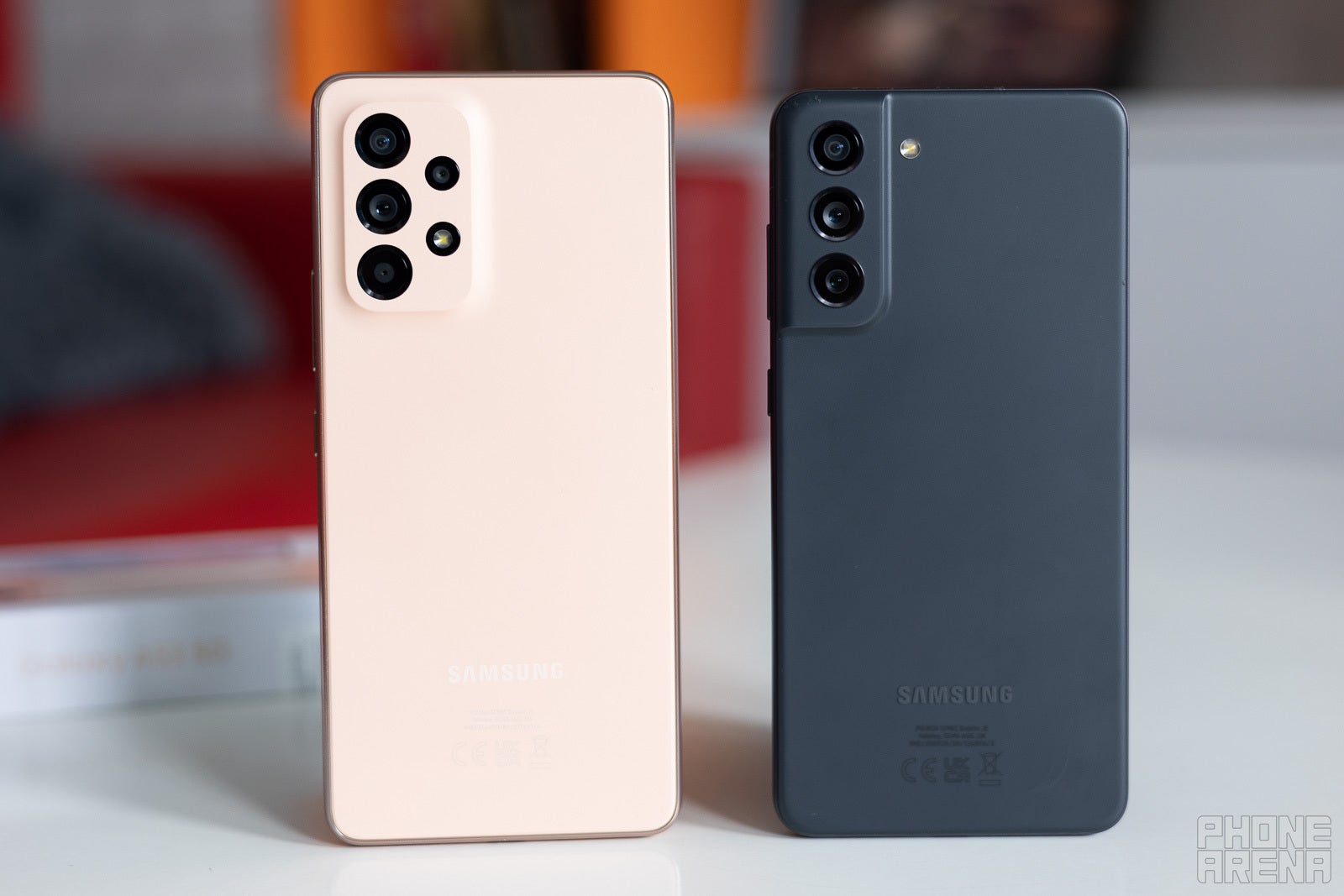 These phones being a bit of a budget thing, they are not getting the big camera sensors reserved for flagship phones, but you still get quite a versatile selection of cameras.
Here is a look at the camera specs and how they differ between the A53 and S21 FE:
| Camera Specs | Resolution | Sensor Size | Pixel Size | Lens |
| --- | --- | --- | --- | --- |
| Main A53 | 64MP | 1/1.7" | 0.8µm | 26mm, f/1.8 |
| Main S21 FE | 12MP | 1/1.76" | 1.8µm | 26mm, f/1.8 |
| Ultra A53 | 12MP | 1/3" | 1.12µm | 13mm, f/2.2 |
| Ultra S21 FE | 12MP | 1/3" | 1.12µm | 13mm, f/2.2 |
| Tele S21 FE | 8MP | 1/4.4" | 1µm | 76mm (3X), f/2.4 |
| Macro A53 | 5MP | - | 1.12µm | f/2.4 |
| Depth A53 | 5MP | - | 1.12µm | f/2.4 |
Having many cameras is not a guarantee for quality, and while the A53 ships with four cameras, two of them (the macro and depth ones) are practically useless.
The S21 FE ships with "only" three cameras, but all of them are useful and it has a big advantage with that dedicated telephoto lens.
Obviously, we cannot say much about image quality or video recording until we get to actually test both phones, so stay tuned for an update to this section as soon as we do that.
And this is what video quality looks like on the A53 and the S21 FE: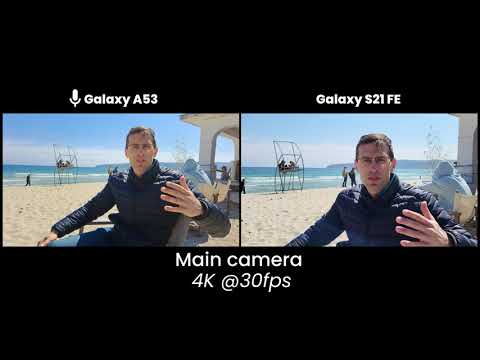 The biggest difference seems in the color science and most notably the vivid and saturated colors you get on the newer A53 versus the more neutral tonalities on the S21 FE.
Performance and Storage differences
The A53 is still rocking a mid-range chip, compared to a top-end one on the S21 FE
The
Galaxy S21 FE
being one for the fans has that flagship processor and zippy performance, while the mid-range A53 compromises on that front with a modest mid-range chip. We have heard various rumors: some say, the A53 will be powered by a MediaTek 900 chip, others say it will run on an Exynos 1200 processor, but what we know for sure is that the S21 FE will have the Snapdragon 888 roaring under the hood. Both models come with 6GB RAM on board.
Performance benchmark runs have already leaked for the A53, and these are the preliminary results.


GeekBench
Single-core
GeekBench
Multi-core
Galaxy A53
686
1874
Galaxy S21 FE
908
2775
As you can see, you have a nearly 50% performance advantage in favor of the S21 FE over the A53, and that means it's just going to be the snappier phone.
On the network side, you have 5G connectivity on both phones. We are yet to hear more details about bands and mmWave support in the United States, and we'll update you on that once we learn more.
The two also come with 128GB of storage. MicroSD cards are gone on the S21 FE, and we don't yet know whether the A53 will support them.
Software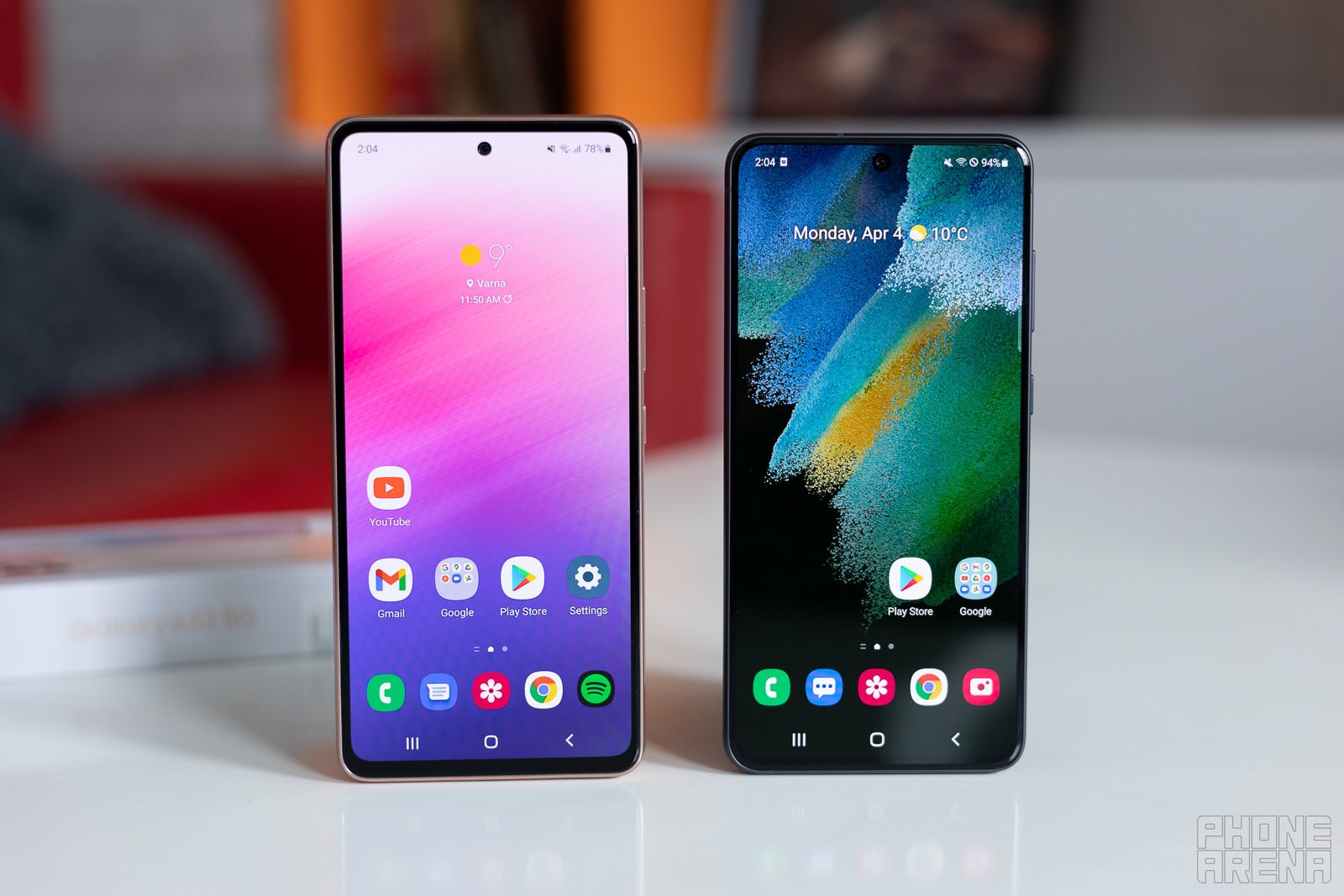 One advantage of the timing of the launch for both these phones is that they will ship with the latest and most up-to-date Android 12 version and Samsung One UI 4.0 on board.
Samsung promises 3 years of major software updates and security fixes for both these phones, which is excellent news and means you should be getting Android 13, 14 and version 15 as the last update due in 2025.
Just keep in mind that we have seen that after the first major update, Samsung is not in much of a rush to push those updates and they usually arrive with quite the delay, compared to something like a Google Pixel, which gets those updates on day one.
Galaxy A53 vs S21 FE: Specs Comparison
And here is a detailed specs comparison between the
Galaxy A53
and S21 FE:


Galaxy A53 5G
Galaxy S21 FE
Size and Weight
Unknown yet
155.7 x 74.5 x 7.9 mm, 170g (6.0oz)
Colors & Materials
Plastic back
Olive, Black, White, Purple
Plastic back, Aluminum frame
Display
6.5" OLED, 1080p, 120Hz
6.4" OLED, 1080p, 120Hz Adaptive
Processor
Snapdragon 778
or Exynos 1200
Snapdragon 888 in the US
Exynos 2100 ROW
RAM
6GB
6GB
Storage
128GB, non expandable
128GB, non expandable
Cameras
Quad cameras
*but no dedicated zoom cam
12MP wide camera, f/1.8
12MP ultra-wide camera, f/2.2
12MP 3X zoom camera
Battery size
5,000mAh
4,500mAh
Charging speeds
Unknown yet
25W wired, 15W wireless
Prices
starting from $500
starting from $700


The
Samsung

Galaxy S21 FE
went on sale in January 2022, while the
Galaxy A53
is gearing up to launch towards the end of Q1 2022.
The $200 price difference between the two is not small by any means, and our take on it is that if you use your phone and need the speed, well, that's the big reason to go for the pricier S21 FE, while if you are not after the ultimate performance and value battery life, the A53 certainly will not disappoint.
So... which one would you go for: the A53 and save $200, or go with the S21 FE and get that faster chip?
Recommended Stories