Samsung Galaxy A32 5G vs Samsung Galaxy A52 5G
2
The Samsung Galaxy A32 is the cheapest 5G phone Samsung offers right now at around $280, but is it wise to spend the lowest for 5G which isn't even that fast on the A32 when you can get the much better Galaxy A52 for around $500?
Let's have a look!
Display
Peasant vs Noble
Right then, to start off, both devices are identical in terms of screen size. They both come in at 6.5 inches but that's where the similarities end. The A32 5G comes with the Super Awesomely Dull 60Hz 720P IPS panel, which kind of suffers from ghosting, whilst the A52 comes with a 120Hz 1080P AMOLED panel, which as you've already guessed, sports magnificent colors and wipes the floor with the A32.
And just to rub more salt in the wound, the Galaxy A32 doesn't dim its display enough in the dark which might be a pain in those tiresome evenings. So we're pretty much sure that Samsung made a wrong choice here with the A32's display.
Display measurements and quality
Design
Something for everyone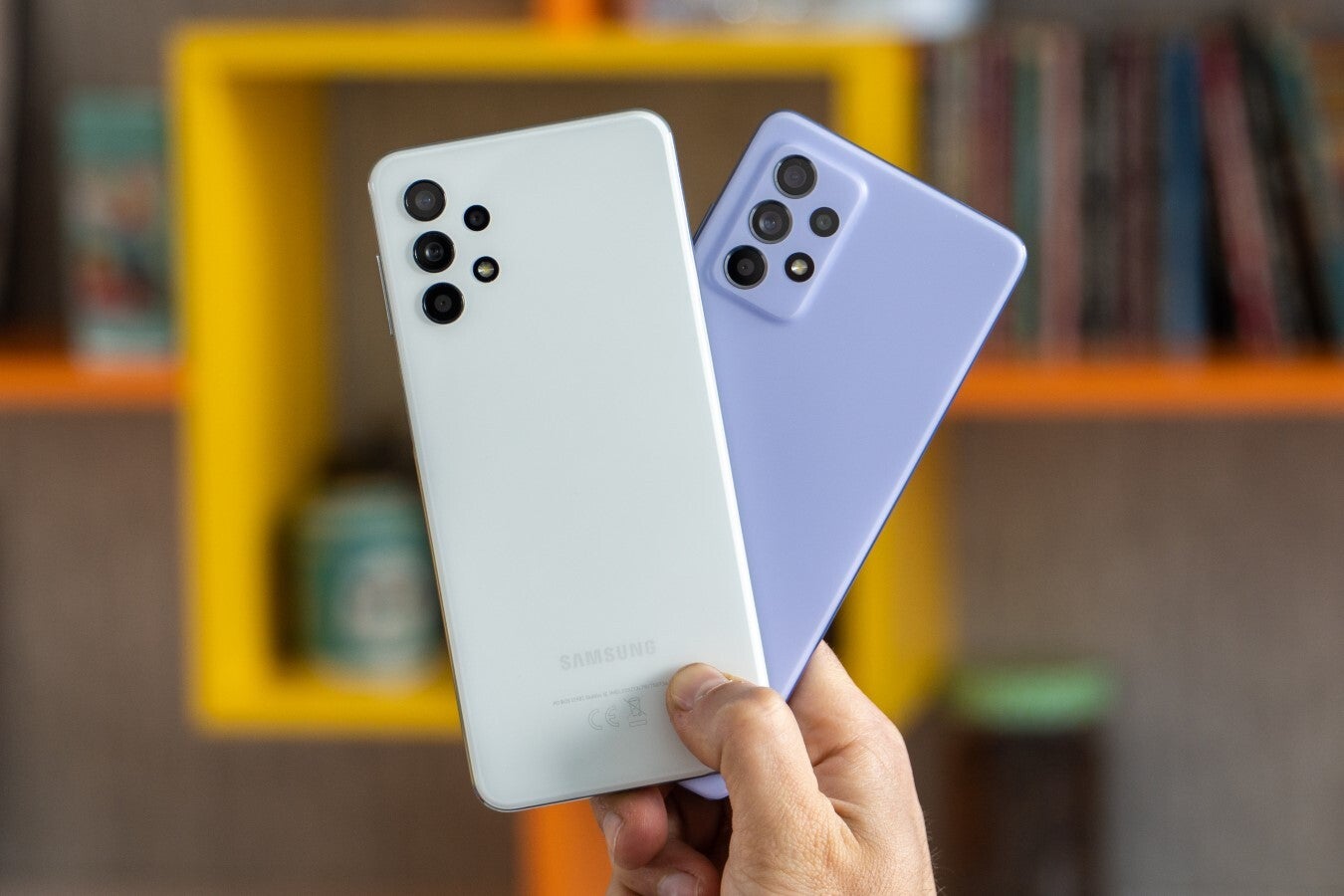 Design-wise is where it's more up to preference. The A32 comes with its hipster glossy plastic back with protrusions for each camera lens whereas the A52 tries to mimic what the S21 has going on for it by including a matte plastic back with kind of a natural camera bump instead of the sharper bumps we are used to. Both devices have their power button and volume rocker on the right side and you'll notice that the A32 has a side-mounted fingerprint scanner which is pretty nice whereas the A52 sports the new optical under-display fingerprint scanner we're all starting to get used to. We should also add that the A32 is heavier than the A52 and thicker than the melted cheese on your pizza. So as you can see, both have their ups and downs, but this is all down to preference.
Performance
The Battle for Middle Earth
How about performance then? Well, if the higher number of the A52 was not obvious, then let us start by saying that it's faster, but, before we make it seem simple, let us also add that the difference should be negligible. Quickly pulling up the specs of both devices, shows us that the A32 is sporting a lower mid-range Mediatek chip while the A52 is sporting a mid-range Snapdragon SoC.
We didn't notice much of a difference in our day-to-day use except maybe a bit in more demanding games. So that puts these 2 devices close and they're fine for casual games, good for some YouTube, and fantastic for everything else. You may notice a stutter here or there but all in all, good performing phones. Just bear in mind that the A52 will feel overall much more smooth thanks to its 120Hz panel.
Camera
Almost equal performers
In terms of cameras. Both devices come with a quad-camera setup where only 3 cameras are usable. The main sensor on the A32 is 48MP while the A52 has a higher resolution sensor at 64MP. The macro camera on both is 5MP and the ultrawide is 8MP for the A32 and 12MP for the A52. That doesn't tell us much by itself so with the interest of finding out which device fares better, we decided to pit them against each other.
Starting with the main sensor. Most shots on both devices were rather nice.
Colors were spot on, except for the occasional oversaturation here or there. Now, if we had to point out a flaw here, it would be the lack of detail on the A32 in some shots.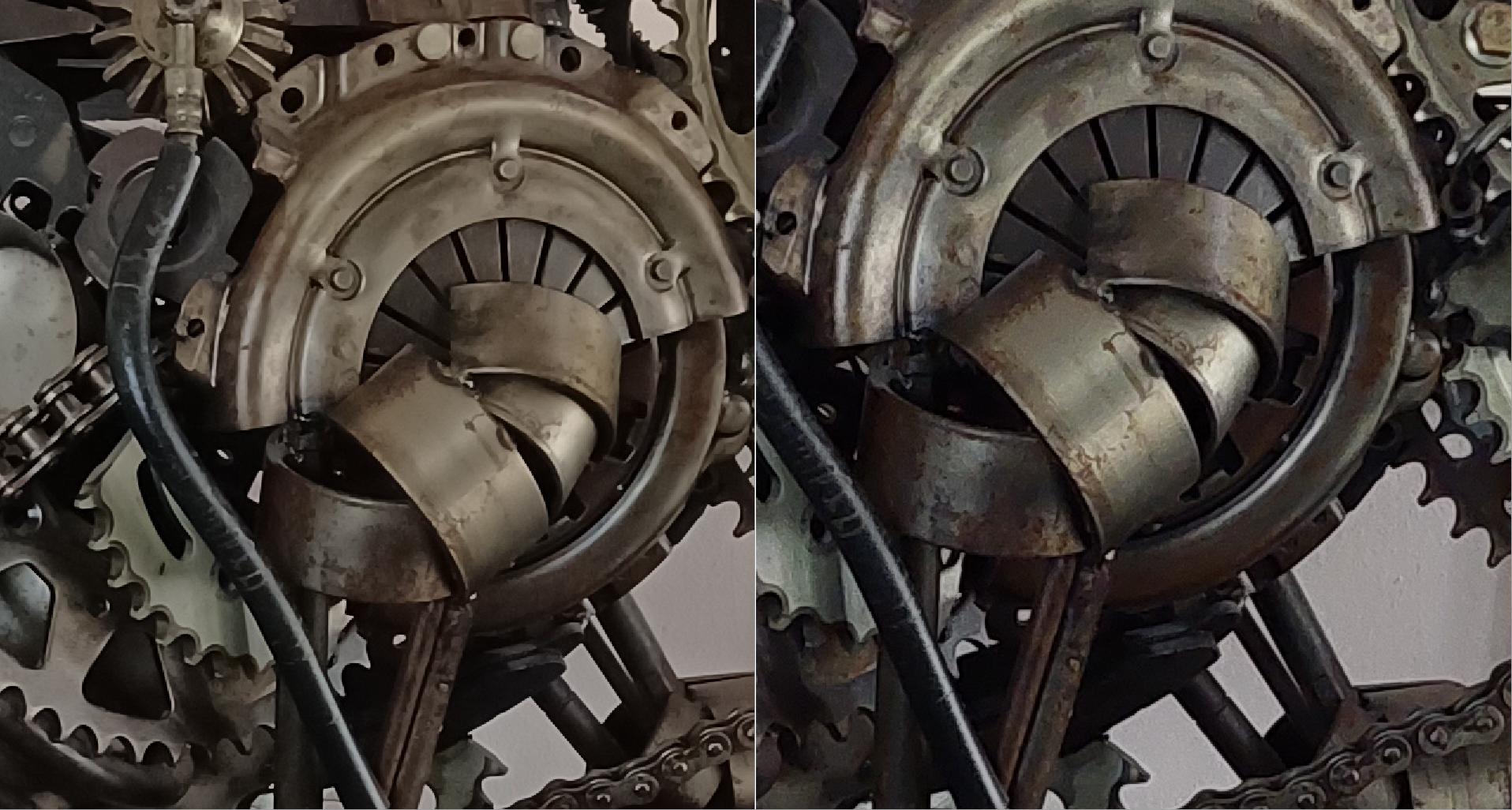 Samsung Galaxy A32 on the left and Samsung Galaxy A52 on the right
For instance, on this mechanical chameleon, if you zoom in, you'd notice that some details are simply not there, whereas, on the A52, they persist.
Moving on to the ultrawide then.
This is where the A52 had clearly more sharpness but it also tended to oversaturate. Furthermore, the A32 can do wider shots. Dynamic range is also fine but not the strong suit of either one of these cameras.

Then we decided to check out some portrait shots.
This is where you can see the benefits of Samsung's processing but also its limitations.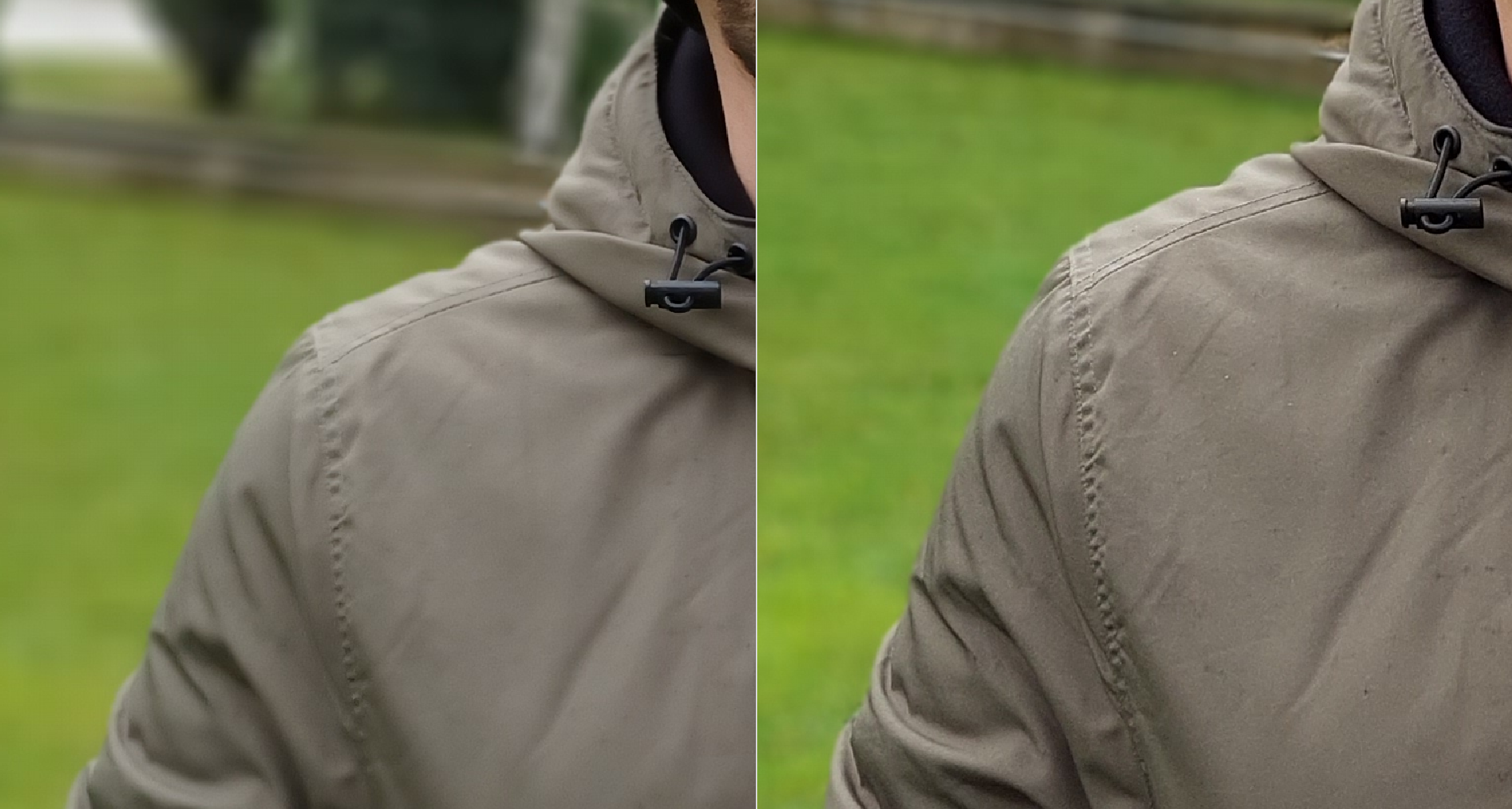 Samsung Galaxy A32 on the left and Samsung Galaxy A52 on the right
While both devices managed to clearly separate the subject from the background, the Galaxy A32 was simply too far behind in terms of hardware in order to bring out the details in the subject, which resulted in a bit blurry images while the A52 fared much better in that regard.

So then we decided to do some closeup shots with the main camera and that just accentuated the difference in sharpness even more.
You can see how the details are kept in this flower but end up missing in the image from the A32.

The selfie cameras look as if they're pretty much on par in both devices in terms of dynamic range but colors were a bit more saturated on the A32.
We did also notice the subject in the back tends to be less sharp on the A32 while the Galaxy A52's front-facing camera keeps more objects in focus.

Moving indoors shows us a slightly mixed story.
Both devices were doing fine in slightly lower-lit conditions, but we did notice the A52's details and sharpness playing into the hands of digital noise which the A32 manages to escape since it tends to artificially fix its lack of clarity, thus ending up with a more clear image.
But that wasn't always the case in every scenario, so we'd put these 2 devices really close in performance here.
So as a conclusion to the camera testing, we'll say the following. The Samsung Galaxy A32 is surprisingly decent when taking photos, even if it does lag slightly behind the A52, but as with everything more budget from Samsung, its video quality suffers quite a lot. The A52 honestly fared much better in almost every regard. So we wouldn't recommend the A32 to anyone that is planning on taking a lot of videos, but it's perfectly splendid for some photos of your vacation.
Battery
The god of Samsung batteries
What about battery life then? Well, we'd have to make the A32 a champ here. Not only does it come with a larger 5000mAh battery versus the 4500mAh battery of the A52 but it also lasts a decent amount more than its bigger brother. But before we show the magic numbers, let us just tell you that the A52 was possibly the best battery we've seen in a Samsung phone so the fact that the former did better, is astonishing. In our testing, the A32 lasted us around 18 hours and 40 minutes while browsing the web at 60Hz whereas the A52 managed only around 16 hours. We also saw the same win in favor of the A32 while watching YouTube. It lasted around 11 hours and 25 minutes versus the 8 and a half on the A32. So we don't think there is much room to debate here.
Features
An obvious choice
And now feature-wise is where it's obvious who's lacking. While both devices do keep their headphone jack and support a Micro SD card at the cost of their second SIM slot, there are still 2 important features of the A52 which crush the A32. And those features are dual stereo speakers and an IP67 water resistance rating. Meaning that the A32 is stuck with a single bottom-firing speaker and is also more likely to die if you were to drop it in a pool. That's not to say that you should go out and swim with your A52 but it's still a good backup to have that extra. Otherwise, in terms of software, both sport Samsung's infamous One UI 3.0 and should receive software updates for the foreseeable future.
So the Samsung Galaxy A32 is the cheapest 5G phone from Samsung but as we found out, it's also not the best. If you ask us, the A52 did a much better job overall except in the battery department, that's where the A32 managed to snatch a surprising victory which is an impressive feat by itself, given how long-lasting the Galaxy A52 is, but of course, when we have to factor in the price, the Galaxy A32 did a surprisingly good job. It managed to take decent photos and lasted us more than 2 days while using it.
So this leads us back to our original question. Is it OK to spend less on a 5G phone or not? Well as it turns out it is and if you really must have 5G, then the Samsung Galaxy A32 is more than good enough for you. But if you found out that you need more than just a decent phone with 5G, then perhaps the A52 might be more up your alley.