Wicos 201 Bluetooth headset review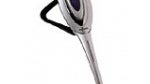 With more and more Bluetooth enabled phones available on the market today, I decided to try to find the most affordable one and review it.

My search started on Ebay. Most of the Bluetooth devices listed there were $100+. The Wicos headset was around $79 at that time (a month ago). Wicos responded quickly to my request for more information and review unit. A week later I had one in my hands.

Recommended Stories