Sony Xperia 1 III vs Apple iPhone 12 Pro Max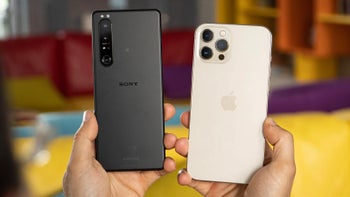 With LG exiting the smartphone game, there is an opportunity for a new company to take on the smartphone market status quo, and Sony is just on time with its latest flagship: the
Xperia 1
III brings the big camera guns with the world's first variable optical zoom camera. Not only that, the Sony Xperia 1 III is packed with the latest and most powerful Snapdragon 888 processor, and caters to Android enthusiasts that have been left behind with a microSD card slot and a headphone jack for convenience. All of that comes in a distinctly Sony design and a body that is not too big and feels rather comfortable to carry around in a pocket.
All of that contrasts with the
iPhone 12 Pro Max
, an excellent and very fast phone with a great camera, but missing out on the zooming capability, and lacking the conveniences that Sony offers.
So... can the new Xperia 1 III be a true iPhone rival that performs as well and matches it on the camera front? There is only one way to find out, so let's get going!
You might also like:
Sony Xperia 1 III preview
Sony Xperia 1 III vs Samsung Galaxy S21 Ultra
Design and Size
The biggest difference between the Xperia and the iPhone is clearly in size: the narrow Sony is much easier to grip and hold firmly in one hand, while the extra wide, XL-sized iPhone feels bulky and with those flat sides, it's even harder to hold comfortably in one hand. If ergonomics are a priority and you don't have hands the size of an NBA player, the Xperia has the advantage here.
Both phones also feature glass on the back, with a matte finish on both. You also have fully flat sides on the iPhone, while the Xperia has a bit of a tapered
edge
on the side for improved comfort. Interestingly, you also get all of the buttons on the Xperia on the right side of the phone, and you have a separate two-way physical camera button on the bottom right, which is a nice convenience for shutterbugs. As for what's missing on the iPhone... well, that's a headphone jack. The Xperia 1 III steps up here as well and does have the 3.5mm jack, which is a convenience some people will definitely appreciate.
Both phones are also IP68 rated, meaning they will survive a drop in water or a bit of use in the rain easily.
Display
With a fast, 120Hz refresh rate the Xperia has the smoother moves and higher resolution
While both these are considered technically bigger phones, the Xperia actually doesn't feel as big as the specs suggest. Its 6.5" screen is tall but also very narrow with the 21:9 aspect ratio, while the 6.7" screen on the iPhone is just much wider. Both are flat screens, however, and we do enjoy not having to deal with a curved display.
| | Sony Xperia 1 III | iPhone 12 Pro Max |
| --- | --- | --- |
| Display size | 6.5", flat, 21:9 | 6.7", flat, 19.5:9 |
| Technology | OLED | OLED |
| Resolution, density | 4K | 1284 x 2778 pixels, 458ppi |
| Frame rate | 120Hz | 60Hz |
| Peak brightness | unknown | 1,200 nits |
| Additional features | HDR support | HDR support |
The iPhone also retains the notch with all the Face ID sensors and front camera, while the Xperia has a very distinct top and bottom bezel instead, so neither of these is a truly "bezel-free" device. The Xperia doesn't offer 3D face identification, but instead relies on a side-mounted fingerprint scanner, separate from the power key.
The big advantage of the Xperia, however, is clearly its support for 120Hz adaptive refresh rate for buttery smooth scrolling, while the iPhone maxes out at 60Hz. The Sony also supports a 4K display resolution for sharper visuals. However, we would have to say that such a difference in resolution is barely noticeable on a phone sized screen, and you really have to
pixel
peep to see it.
Performance
The Xperia 1 III features the latest and most powerful Qualcomm Snapdragon 888 chip, while the
iPhone 12 Pro
Max uses Apple's own A14 Bionic chip.
Both are the most powerful solutions for each platform, so you know you're not missing out on performance. Both are also manufactured using the latest technology available: 5nm, with millions of transistors inside.
The cross-platform GeekBench benchmark that measure CPU performance still shows a sizeable advantage in favor of the A14:
GeekBench 5 scores
Snapdragon 888: 1113 (single-core), 3436 (multi-core)
Apple A14 Bionic: 1593 (single-core), 4235 (multi-core)
The Xperia, however, has the upper hand in the RAM department as it ships with 12GB of RAM vs 6GB of RAM on the iPhone, so you can keep more apps open in the background and multitask a bit faster.
5G Connectivity

Unlike previous Sony phones, the Xperia 1 III is a 5G device that will work on Verizon and T-Mobile's sub6 networks, but it does not support AT&T's 5G network and it lacks mmWave antennas. We don't lament the lack of mmWave too much, but for the 1% that live in a mmWave covered area that has to be considered. International buyers should be content with just sub6 5G as that is what most carriers globally use.




The iPhone, on the other hand, supports all US networks and has both 5G kinds: sub6 and mmWave, and if you happen to live near a mmWave tower, you will only be able to experience those super fast speeds on the iPhone.
Camera
Can a Sony camera phone beat the iPhone?
Sony makes some of the best mirrorless cameras on the market, and technology from those cameras trickles down to its flagships. The Xperia 1 III brings back a bunch of those features, but also, it's the world's first phone with a variable optical zoom. This means that you get a periscope style zoom lens where the element physically moves so you get two different levels of optical zoom: 70mm, which is about 3X zoom, and 105mm, which is about 4.4X zoom, and you get optical stabilization on both for cleaner shots.
The iPhone on the other hand has an ultra-wide camera that is wider than most other phones and you can capture more in the frame with it. In photographic terms, it's a 13mm ultra-wide lens on the iPhone vs a 16mm lens on the Sony, not quite as wide.
Here are the full camera specs on both phones:
| | Sony Xperia 1 III | iPhone 12 Pro Max |
| --- | --- | --- |
| Main Camera | 12MP, 24mm f/1.7 with OIS | 12MP, 26mm f/1.7 camera with sensor shift stabilization |
| Secondary Camera | 12MP ultra-wide, 16mm f/2.2 | 12MP ultra-wide, 13mm |
| Third Camera | 12MP variable zoom (70mm f/2.3, 105mm f/2.8) with OIS | 12MP, 2.5X zoom telephoto lens (65mm) with OIS |
| Fourth Camera | - | - |
| Additional sensors | ToF sensor | LiDAR sensor |
For the actual photos, Sony goes with more natural looking colors, which is definitely a different look from the vivid photos you get on the iPhone with boosted colors and contrast. We will be updating this with a side-by-side photo comparison but right now we only have sample photos taken by Sony itself.
Another area where the Xperia has an upper hand is in video features. You have real-time eye-tracking auto focus in video, but our favorite feature might be 4K120 HDR recording for super clear slo-mo that you just cannot get on the iPhone.
Sony is also adding a neat feature for mirrorless/SLR camera owners: you can connect the phone to your camera via a USB-C cable and use the larger phone screen as a monitor. Cool!
Battery Life and Charging speeds
4,500mAh battery for Xperia 1 III vs 3,687mAh battery on iPhone 12 Pro Max
Sony 30W fast charging vs iPhone 20W fast charge
Finally, these two will have different battery sizes. Typically, iPhones have smaller battery sizes and that's the case here too. The Xperia comes with a 4,500mAh battery, significantly larger than the 3,687mAh battery on the iPhone (a nearly 20% difference in favor of Sony).
This, however, does not necessarily mean that the Xperia has longer battery life since that also depends on the software and optimizations, so we will need to test this once we get a hold of the Xperia.
Charging
For charging, the iPhone 12 Pro Max can only go up to 20W, while the Xperia 1 III supports 30W wired charging speeds, which is some 50% faster! This is still the one area where Apple is way behind the competition as the 12 Pro Max takes more than 1 hour and 40 minutes for a full charge, while the Xperia will charge fully in around an hour or a bit more, great if you are in a hurry.
While we're on the charging topic, let's mention that the iPhone was the first mainstream phone to ship without a charger in the box. We still don't know whether the 30W Sony charger will be included, but chances are it will be there in the box.
Both the Xperia 1 III and iPhone 12 Pro Max also support
wireless charging
. The current Apple MagSafe wireless technology supports up to 15W speeds.
Prices
Sony used to be a household name in the 90s, but its phones have a niche audience these days and a big reason for that is Sony's non-existent relationship with US carriers, and so far it doesn't seem like Sony is changing that with the Xperia 1 III. It is still a premium phone that in a typical Sony tradition is likely to maintain a higher prices when it launches sometime this summer. You can, however, expect Sony to sweeten the deal a bit with freebies like a pair of
wireless headphones
.
While we don't have official pricing info yet, the rumored price of the Xperia 1 III is around $1,200, which matches the price of the iPhone 12 Pro Max at the same 256GB storage range. Unfortunately, the 1 III is not available in a lesser, 128GB version, which would have had a lower price, while you can get a 128GB iPhone for $100 less.

Here is a price comparison:

Sony Xperia 1 III: expected price of around $1,200 for 256GB model
iPhone 12 Pro Max: $1,100 for 128GB model, $1,200 for 256GB model

So... with all this in mind, which one would you go for?