Sony Xperia 1 III vs Samsung Galaxy S21 Ultra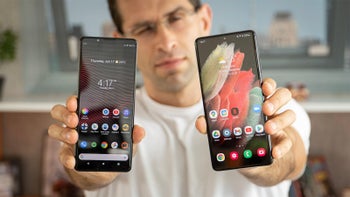 The Samsung
Galaxy S21 Ultra
has been the Android phone to beat in 2021: with an unparalleled zoom camera, fast performance, improved design and biometrics, it's hard to find its weak spot. But if there is a company that could rival the camera on the Galaxy it has got to be Sony, which also happens to make the world's most popular mirrorless cameras. So can the new
Xperia 1
III match the
Galaxy S21
Ultra?
Sony scores a world first with the zoom camera on the Xperia 1 III: it has this clever periscope-style lens where a physical element moves inside between two fixed points and as it moves, the camera switches between 3X and 4.5X magnification. This is great because previously, you would need to separate cameras for that. That is not the only new camera feature, however. Sony also borrows real-time face and eye tracking from its Alpha mirrorless cameras, plus the phone itself has a list of specs that impresses including a super smooth 4K 120Hz screen and optimizations for gamers. With all of this, the new Xperia shapes up to be a great competitor.
So... let's get at it and see who wins it in this fight of Android titans, the Xperia 1 III or the Galaxy S21 Ultra?
You might also like:
Sony Xperia 1 III preview
Sony Xperia 1 III vs Apple iPhone 12 Pro Max
Design and Size
The Galaxy is a powerful device but also a bigger one: it is noticeably thicker than your average phone. The Xperia, on the other hand, looks surprisingly svelte: it has a much narrower profile for an easier grip, and it's thinner and of lighter weight too.
Both phones feel premium in the hand: you get a matte glass finish on both, but you have tapered sides on the Galaxy, while the Xperia has more of a trapezoidal shape on the side. Interestingly, the Xperia also has all its buttons on the right side, and it even has a dedicated camera shutter button that you don't get on the Galaxy. Plus, it has one big convenience: a headphone jack! Yes, you also get back the 3.5mm jack that is missing on the Galaxy, and a microSD card slot. Those are two features Samsung removed recently and we think Sony is doing a smart move by including them to please more demanding users.
Both are also water protected with an IP68 rating, meaning they will survive a short drop in water, which is nice to see.
Display
The Galaxy has the larger screen, but the Xperia -- the higher resolution

Equipped with high-end AMOLED screens, both the Galaxy and the Xperia have screens that look undeniably good. You also get a 120Hz fast refresh rate support on both, an expected feature in a 2021 Android flagship, for buttery smooth scrolling (the Galaxy, however, adjusts refresh automatically depending on the content, while the Sony is locked at 120Hz). Plus, both also support HDR. Check, check, check.




There are slight differences, however, too: the Galaxy has the larger screen size at 6.8" vs 6.5" on the Xperia, and the Sony has a flat screen vs a slightly tapered one on the Galaxy.
| | Sony Xperia 1 III | Galaxy S21 Ultra |
| --- | --- | --- |
| Display size | 6.5", flat, 21:9 | 6.8", curved, 20:9 |
| Technology | OLED | OLED |
| Resolution, density | 4K | 1440 x 3200 pixels, 516ppi |
| Frame rate | 120Hz | 10Hz - 120Hz Dynamic |
| Peak brightness | unknown | 1,500 nits |
| Additional features | HDR support | HDR support |
Then come the differences in resolution. You have 1440p on the Samsung, but the Xperia goes even higher at 4K. Yes, that might be a bit of an overkill for such a small screen, but if you look really up close you will notice how the Xperia is a bit sharper.
It's also up to you to decide whether you like the extra tall and narrow 21:9 aspect ratio on the Sony: its great for watching Netflix movies as those are usually shot in that format, but the more conventional 20:9 ratio on the Galaxy is more suitable for reading text and for most other content.
Performance
There is no significant difference in the performance power of these two as both are equipped with the latest and most powerful Snapdragon 888 chip.
Of course, unless you are buying the Galaxy outside of the US where it comes with a Samsung-made Exynos 2100 processor, which is just a bit slower and a bit less power efficient than its Snapdragon counterpart, and if that's the case, the Xperia does have a slight advantage.
Both come with 12GB of RAM on board which is plenty for keeping a bunch of apps in the background for quick multitasking.
5G Connectivity

Unlike previous Sony phones, the Xperia 1 III will work on Verizon and T-Mobile's 5G networks, but it does not support AT&T's 5G network and it also does not have mmWave antennas on board. The lack of mmWave support is not something that concerns us too much, but keep it in mind if you live in one of the few areas where there is mmWave coverage.




The Galaxy, on the other hand, supports both kinds: sub6 and mmWave, and if you happen to live near a mmWave tower, you will only be able to experience those super fast speeds on the Galaxy.
Camera
A battle of zoom masters
Sony has always had a reputation for making great camera phones, but it never had the latest, cutting
edge
features. Well, the Xperia 1 III changes that it with a triple camera system where one of the cameras is really something we have never seen before on a modern flagship: it's a camera with a variable optical zoom. The telephoto camera on the Sony is of the periscope kind, but unlike other of this kind, it has a physical element that moves inside, so you can switch it between a 70mm (about 3X) zoom and a 105mm (about 4.5X) zoom levels. To achieve a similar effect, the Galaxy has to use two completely different zoom cameras, one with a 3X zoom lens, and the other, a periscope camera with 10X zoom. So yes, the Galaxy still has the longer-range zoom, but the Xperia has an innovative and clever solution that saves up on space so you don't end up with a giant camera bump.
Here is a full breakdown of the camera specs on both phones:
| | Sony Xperia 1 III | Galaxy S21 Ultra |
| --- | --- | --- |
| Main Camera | 12MP, 24mm f/1.7 with OIS | 108MP, 24mm f/1.8 lens with OIS |
| Secondary Camera | 12MP ultra-wide, 16mm f/2.2 | 12MP ultra-wide, 13mm |
| Third Camera | 12MP variable optical zoom (70mm f/2.3, 105mm f/2.8) with OIS | 10MP, 3X zoom telephoto lens (72mm, f/2.4) with OIS |
| Fourth Camera | - | 10MP, 10X zoom periscope lens (240mm, f/4.9) with OIS |
| Additional sensors | ToF | Laser auto focus |
Sony has already provided official camera samples and while we cannot yet compare photos directly between these two, it's obvious that Sony goes for more natural-looking colors, while the Galaxy gives you an image with boosted, vivid colors and contrast out of the gate. So these are two different approaches, and we cannot say which one is better, but if you are after getting more "realistic" photos, well... the Sony has the upper hand.
In terms of video recording, you get up to 8K video on both, but the Xperia shines with 4K120 HDR video that is great for slowing down in post and achieving some incredible looking slo-mos. On the video side, the Xperia also gets real-time eye-tracking auto focus, and Sony showed how the camera will switch focus the moment it sees a person turning toward the camera, which is definitely a pro feature from Sony's Alpha mirrorless cameras.
Plus, if you own a DSLR/mirrorless camera, you can use a USB-C cable to connect your Xperia 1 III and it will work as a monitor. Cool!
Battery Life and Charging speeds
4,500mAh battery for Xperia 1 III vs 5,000mAh battery on Galaxy S21 Ultra
Sony 30W fast charging vs Galaxy 25W fast charge
Finally, these two have different battery sizes, and it's the Galaxy which stands out with a massive, 5,000mAh battery, larger than the 4,500mAh cell on the Xperia. This works out to more than 10% larger battery capacity, a considerable difference, but again that's only expected considering how much bulkier the Galaxy is.

We are yet to test the battery on the Xperia in detail, so expect to see this section updated with the results from our battery tests in the near future.


Charging

For charging, these two are definitely not among the very fastest out there: you get about a 50% charge in 30 minutes, and a full charge takes a bit more than an hour. The exact charging speeds are up to 25W on the Galaxy (and you have to buy a charger separately since you don't get one in the box) versus a 30W speed on the Xperia.




Compare this with phones like the

OnePlus 9

Pro that charge fully in 29 minutes, and you will see how these two are behind the curve in that regard.

Both also support

wireless charging

which is a neat convenience.
Prices
Sony has always been about making premium devices, and even though we don't have official prices just yet, rumors point to a $1,200 starting price on the Xperia 1 III, on par with the Galaxy S21 Ultra. Unfortunately, while the Xperia 1 III does support Verizon and T-Mobile 5G, it is not likely to be actually sold over at those US carriers, so chances are that it will remain a bit of a niche offering that you have to buy unlocked over at Amazon, Best Buy, B&H and the likes.
And here is a price comparison:
Sony Xperia 1 III: $1,200 for 256GB
Samsung Galaxy S21 Ultra: $1,200 for 128GB
At those prices, the Xperia will be a tougher sell since it is missing a bit in software features and brand recognition, but if that camera really, really holds up to the promise, it might just be a justified price.
So... with all this in mind, which one would you go for?