Sony Xperia 1 III vs Samsung Galaxy S21 Ultra
8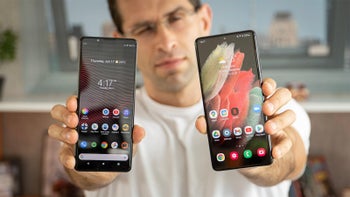 The
Samsung Galaxy S21 Ultra
has been the Android phone to beat in 2021: with an
unparalleled zoom camera
, fast performance, improved design and biometrics, it's hard to find its weak spot. But if there is a company that could rival the camera on the Galaxy it has got to be Sony, which also happens to make the world's most popular mirrorless cameras, and it has a new flagship phone in 2021: the Xperia 1 III.
Sony actually has something completely new on the camera front with the Xperia 1 III: a periscope-style lens where physical elements move inside between two fixed points and as they move, the camera switches between 2.9X and 4.4X magnification. What used to take two separate cameras, Sony now does with just one. Sony also borrows real-time face and eye tracking from its Alpha mirrorless cameras, plus the phone itself has a list of specs that impresses including a super smooth 4K 120Hz screen, as well as a microSD card support and headphone jack that are gone on the Galaxy. With all of this, the new Xperia shapes up to be a great competitor.
So... let's get at it and see who wins it in this fight of Android titans, the Xperia 1 III or the Galaxy S21 Ultra?
You might also like:
Sony Xperia 1 III Review
Sony Xperia 1 III vs Apple iPhone 12 Pro Max
Design and Size
Comparing the two side by side, the Galaxy is clearly the bigger phone: it is both heavier and also noticeably thicker. The Xperia, on the other hand, looks surprisingly svelte: thanks to its tall and narrow dimensions, it is much easier to grip with one hand, and it's refreshingly lighter too.
As for build quality, both phones feel well made and premium in the hand: you get a matte glass finish on both, but you have tapered sides on the Galaxy, while the Xperia has more of a chamfered edge and a flat side. Interestingly, the Xperia also has all its buttons on the right side, and there's a lot of them: a volume rocker and a recessed power key come standard, but then you also have a non-remappable dedicated Google Assistant button and the 2-way shutter key.
Plus, the Xperia also has a headphone jack that's gone missing on the Galaxy. Sony is definitely trying to differentiate itself here as the phone that gives you the options that others took away.
Both phones are also conveniently water sealed with an IP68 rating, meaning they will survive a short drop in water.
Display
The Galaxy has the larger screen, but the Xperia -- the higher resolution

You should not be surprised to learn that both the Samsung and the Sony come equipped with the now ubiquitous OLED screen tech, with excellent contrast, deep blacks and great viewing angles. But while these are great screens, there are still some differences you should know about. The major one that we noticed is just in the brightness: the Galaxy reaches a max brightness level of 889 nits, nearly 50% brighter than the peak 627 nits of brightness the Xperia is capable of, and that makes the Galaxy far easier to read outdoors on a sunny day.




Then you have the obvious difference in size: the Galaxy comes with a bigger and wider 6.8-inch display versus a 6.5-inch one on the Xperia. You have a bit of a curvature on the Galaxy, while Sony has gone for a completely flat screen.




You also get a 120Hz fast refresh rate support on both, an expected feature in a 2021 Android flagship, for buttery smooth scrolling (the Galaxy, however, adjusts refresh automatically depending on the content, while the Sony is locked at 120Hz). Plus, both also support HDR.



| Display Specs | Sony Xperia 1 III | Galaxy S21 Ultra |
| --- | --- | --- |
| Display size | 6.5", flat, 21:9 | 6.8", curved, 20:9 |
| Technology | OLED | OLED |
| Resolution, density | 4K | 1440 x 3200 pixels, 516ppi |
| Frame rate | 120Hz | 10Hz - 120Hz Dynamic |
| Peak brightness | 627 nits | 889 nits |
| Additional features | HDR support | HDR support |
Then come the differences in resolution. You have 1440p on the Samsung and 4K on the Sony, yet another specs flex. This one, however, is an overkill, as it's almost impossible to appreciate the benefit of this resolution on such small screens.
It's also up to you to decide whether you like the extra tall and narrow 21:9 aspect ratio on the Sony: its great for watching Netflix movies as those are usually shot in that format, but the more conventional 20:9 ratio on the Galaxy is more suitable for reading text and for most other content.
Performance

There is no significant difference in the performance power of these two as both are equipped with the latest and most powerful Snapdragon 888 chip. Both also come with 12GB of RAM on board which is plenty for keeping a bunch of apps in the background for quick multitasking.
What we did notice, however, was that the Xperia was consistently getting hot for even seemingly basic tasks. Browsing the web? The phone would get warm. Watching YouTube videos? The Sony could get yet hotter. Multitasking and gaming? It would heat up even further. This was actually a real annoyance as the phone would often start warming up while resting in my pocket, something that has never happened on the Galaxy, or most other recent phones for that matter.
In terms of storage, the Xperia comes with 256GB of the stuff and it has microSD card support. The base model of the Ultra starts at 128GB and it does not support microSD expandable storage, so that is at least some justification for the higher price of the Xperia.
5G Connectivity

Unlike previous Sony phones, the Xperia 1 III will work on Verizon and T-Mobile's 5G networks, but it does not support AT&T's 5G network and it also does not have mmWave antennas on board. The lack of mmWave support is not something that concerns us too much, but keep it in mind if you live in one of the few areas where there is mmWave coverage.




The Galaxy, on the other hand, supports both kinds: sub6 and mmWave, and if you happen to live near a mmWave tower, you will only be able to experience those super fast speeds on the Galaxy.
Camera
A battle of zoom masters
Sony has always had a reputation for making good camera phones, but it never had the latest, cutting edge features. Well, the Xperia 1 III aims to change that it with a triple camera system where one of the cameras is really something we have never seen before on a modern flagship: it's a camera with a variable optical zoom. As we explained earlier, this means that you get a periscope lens with moving elements so you get two focal lengths with just one lens: you can switch it between a 70mm (2.9X) zoom and a 105mm (4.4X) zoom levels.
The Galaxy, on the other hand, uses two completely different zoom cameras, one with a 3X zoom lens, and the other, a periscope camera with 10X zoom. So yes, the Galaxy still has the longer-range zoom, but the Xperia has an innovative and clever solution that saves up on space so you don't end up with a giant camera bump.
Here is a full breakdown of the camera specs on both phones:
| | Sony Xperia 1 III | Galaxy S21 Ultra |
| --- | --- | --- |
| Main Camera | 12MP, 24mm f/1.7 with OIS | 108MP, 24mm f/1.8 lens with OIS |
| Secondary Camera | 12MP ultra-wide, 16mm f/2.2 | 12MP ultra-wide, 13mm |
| Third Camera | 12MP variable optical zoom (70mm f/2.3, 105mm f/2.8) with OIS | 10MP, 3X zoom telephoto lens (72mm, f/2.4) with OIS |
| Fourth Camera | - | 10MP, 10X zoom periscope lens (240mm, f/4.9) with OIS |
| Additional sensors | ToF | Laser auto focus |
So what about image quality?
In ideal conditions as in the photo above, the differences are not huge. The Xperia tends to have softer detail and crushes detail in the shadows, while the Galaxy stands out with the sharper photo with a slightly better dynamic range.
The issue with the crushed shadows is only amplified when shooting with the ultra-wide lens, and yes, you do indeed get a wider photo with the Galaxy: it has a 0.6X ultra-wide camera compared to a tighter, 0.7X lens on the Xperia.
< Xperia 10X
Galaxy 10X >
< Xperia 2.9X
Galaxy 3X >
When it comes to zooming, you get the best quality of the Xperia at exactly 2.9X and 4.4X, which is not such a great difference, while on the Galaxy you can achieve maximum zoom quality at 3X and 10X, and as you can see above, the Galaxy is consistently the sharper phone with more controlled dynamics. We do like the results from the Xperia, but the long-range zoom on the Galaxy is definitely more versatile.

Check out our detailed camera comparison above where we dive in deeper with both photo and video quality in various conditions, including low light.
Battery Life and Charging speeds
4,500mAh battery for Xperia 1 III vs 5,000mAh battery on Galaxy S21 Ultra
Sony 30W fast charging vs Galaxy 25W fast charge
Finally, these two have different battery sizes, and it's the Galaxy which stands out with a massive, 5,000mAh battery, larger than the 4,500mAh cell on the Xperia. This works out to more than 10% larger battery capacity, a considerable difference, but again that's only expected considering how much bulkier the Galaxy is.

In our battery tests, the Xperia did not impress in any way. The Galaxy scored far better on all three of our tests: web browsing, YouTube video streaming and 3D gaming. In real life, we found the Galaxy would easily last through those longer days, while the Xperia definitely requires a top up before the end of the day if you push it.


Charging

For charging, these two are definitely not setting any new standards: you get about 50% charge in 30 minutes on both, and a full charge takes a bit more than an hour. The exact charging speeds are up to 25W on the Galaxy (and you have to buy a charger separately since you don't get one in the box) versus a 30W speed on the Xperia (you at least get the charger in the box with the Sony).




Both also support wireless charging which is a neat convenience.


Prices and Conclusion

Sony has always been about making premium devices, but it really outdid itself by pricing the Xperia 1 III at the whopping $1,300. The Galaxy S21 Ultra goes cheaper at $1,200, but it is also often discounted, so you can easily get one for $1,000, and that is just a crazy difference.




The price of the Xperia really doesn't make sense considering that the Galaxy outperforms it in almost every aspect from the screen to the camera and battery life, while the Xperia only offers that clean interface, and manual controls for various settings, but suffers from overheating issues.




At those prices, the Xperia is a very tough sell that Sony seems to have made for only the hardcore Sony enthusiasts, while most other people would probably be better off with the worry-free Galaxy S21 Ultra.