Samsung SGH-G400 Review
5

This is an unlocked GSM phone which can operate in the
US on AT&T (without 3G) and T-Mobile (without 3G).

Introduction:
Some of you may ask 'Isn't that the folding Soul?', actually no, despite the fact that the company's German website has it listed as G400 Soulf. Samsung assured us, that the model's official name is only G400.
Like the representatives of the Soul line this one also relies on the combination of an attractive design and multimedia functionality. In addition, as a member of the G-class, which is the manufacturer's cameraphone line, G400 is equipped with a 5-megapixel camera with autofocus. The more interesting thing here is that we have a touch sensitive external display, which allows you to use the phone while it is closed.
Included in the box you will find: Samsung SGH-G400, Charger, Handsfree, User's manual
Design:
The phone has a beautiful, stylish appearance, which catches the eye. Almost the entire body is made of polished metal, creating a classy feel when in your hands. Unfortunately, its size is not compact and G400 doesn't fit well in a female hand or in a pocket. Another drawback is that it is hard to open singlehandedly because of the lack of any convenient places to put your fingers in. At least it is very comfortable during a talk.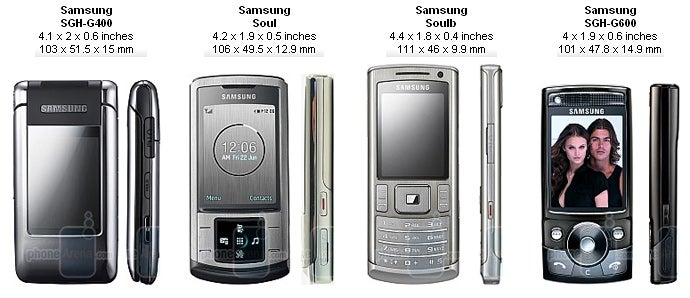 You can compare the Samsung G400 with many other phones using our
Size Visualization Tool
.
Both
displays
are identical (2.22", 240x320 pixels and 262k colors), but as we've previously mentioned, the external one is a full touch one. It is only activated by solids with a constant electric flow (e.g. finger) and even if it's unlocked, you will not press it accidentally if you carry it in your pocket for example. Both screens reproduce colors well in a dim light but are unusable in direct sunlight. In addition, the internal display looks small in contrast to the huge body.
The
keyboard buttons
are large and very convenient to work, because they are easy to press and clearly felt. The same goes for the side buttons.
Software:
G400's
interface
is almost identical with the one of Soulb. You can placevarious animations, pictures or clocks on the homescreen, whose designdepends on theme selected. In addition, you have the option to make aslideshow from your pictures with various animated effects, which thencan be used as a background.
G400 also has the option to create
your own theme
, but you can also personalize the external display bychanging the picture and the color of the icons, which reminds us of Soul's Magic Touch pad. Besides the one youhave chosen for a background, you are able to see the
multimedia menu
as well. It offers fast access to the music player, the FM radio, thecamera and gallery. The main idea of the interface is to facilitate theuse of the multimedia functions when the phone is closed.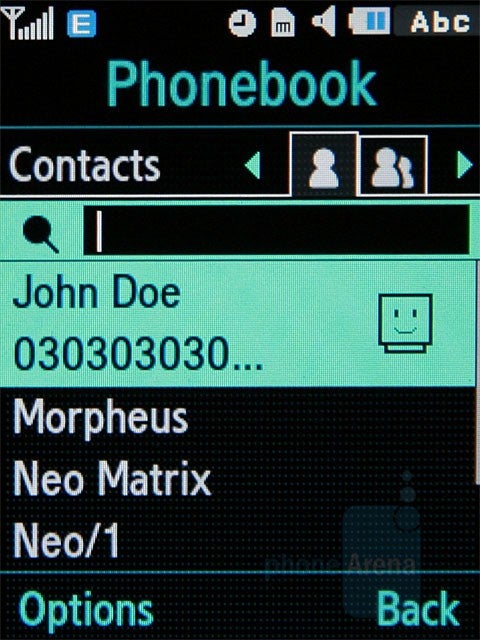 The
phonebook
can store up to 1000 contacts and you can add multiplenumbers for each of them, and also e-mail, picture, melodies, date of birth and additional info. When inputting digits, the phoneautomatically looks for matches in the contacts' numbers, which is avery convenient function. In addition, this can be done with theirnames as well (if you dial 6 – MNO, 3 – DEF, 6 – MNO you will get Neo),but is done manually.
The
calendar
can be viewed by month, week,or day. When inputting an event you can choose between Appointment,Anniversary, Holiday, Important and Private) and you'll also be able toindicate the place, start/end time, set an alarm anddaily/weekly/monthly repetition. All these options will let you planand view your schedule fast and easy.
There can be a total of 11alarms and an auto power-on option if the phone has been off. The restof the organizing functions, like for example, Tasks, World clock,Calculator, Timer etc. are located in the Applications menu.
G400is a tri-band GSM (900/1800/1900) with single-band support of HSDPA 7.2Mbps. This means that you will be able to fully take advantage of itscapacities only in Europe and Asia. Unfortunately, there's noinformation on a U.S. version.
The power of 3G can be felt viathe
Access NetFront 3.4 HTML browser
. There are two viewing modes –Desktop, which visualizes pages as on a computer and Smart-fit toeliminate the horizontal scrolling. The second method is imperativewhen you're reading something, because otherwise, the text doesn'tshrink to fit the screen. The good news is that after loading a page inone of the modes you can switch to the other one in seconds and withouthaving to reload the content. You also have an options to zoom in atdifferent rate and Page pilot (both accessible from the options menu),which zooms out so you can move to another area quickly. Sometimes,when you try to load heavy pages, the browser returns an error,notifying you that there's not enough memory to visualize the contentrequested.
Recommended Stories