Samsung S5560 Review
8

This is a global GSM phone. It can be used with AT&T and T-Mobile USA.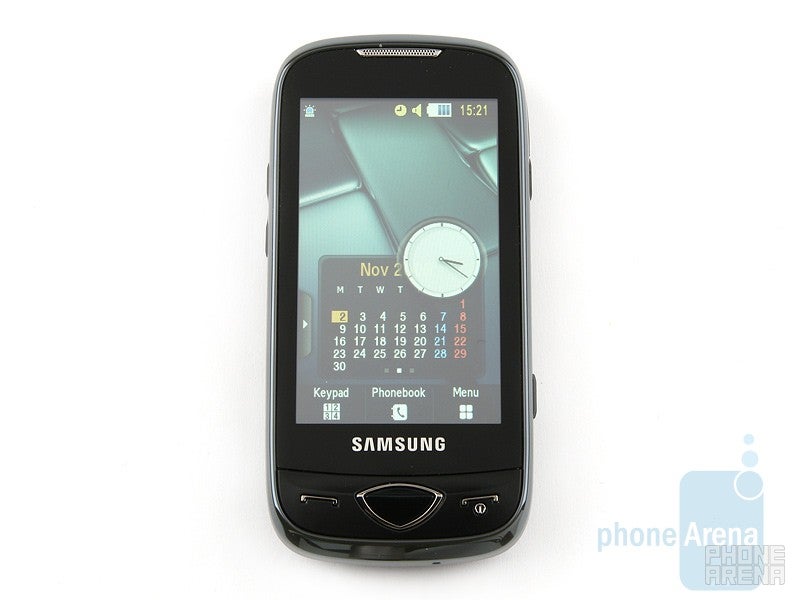 Introduction and Design:
Two years ago a cell phone with touch sensitive screen were a trendy device. Now, at the end of 2009 they are a dime a dozen and there are even entry level handsets equipped with such a display. Some manufacturers (mostly Samsung and LG really) have taken it to heart to offer at least one handset with touchscreen in every single product class of their cell phone catalogues and the compact
Samsung S5560
(also known as Marvel) owns its existence to the this particular policy – it´s a mainstream device that offers more extra features than the popular
Samsung Star S5230
, but is inferior to the capable
Jet S8000
. It´s equipped with 5-megapixel camera, 3-inch display and Wi-Fi, but lacks 3G connectivity.
Similarly to all latest Samsung´s handsets with touch-sensitive screens, the S5560 sports
three handy buttons on its front
– send and end keys and an oddly shaped button that gets you a step back into menus.
The 3-inch WQVGA resolution screen
above them offers pleasing image quality indoors, although it turns into a proper mirror in direct sunlight and gets uncomfortable to use. It has decent overall sensitivity for a resistive display, but it´s definitely below par alongside of the Samsung Jet S8000.
On the sides
you have volume rocker, camera shutter and screen lock/unlock button and we have to say we didn't have any problems with them. The Samsung S5560 is charged via microUSB slot located on
the top side
, next to the 3.5mm jack.
The back
of the phone is matted, has a pleasing shape and allows for proper grip, which is always a definite plus.
The Samsung S5560 didn´t exactly wow anyone who saw it, but still, it looks well and comes with proper build quality.
Samsung S5560 360 Degrees View: Recommended Stories