Samsung Modus 3500 Review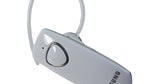 Introduction and Design:
Convenience is the quintessential luxury that manufacturers attempt to steer with their product offerings, but in the case of most Bluetooth headsets, they mostly gravitate to being a monotone solution. Sure there are some stereo Bluetooth earphones that will get the job done, but they can obviously be a bit more cumbersome in carrying around. However, the
Samsung Modus 3500
aims to be a double dose solution with its mono to convertible implementation – while still being easily portable and compact. Packaged with the Bluetooth headset are 2 ear hooks, 3 ear gels, microUSB wall charger, clip, wired stereo headphone, and a user manual.
From a quick inspection, the Modus 3500 is a normal-looking headset that's constructed out of glossy white plastic with some chrome trims to accent its design. However, it doesn't necessarily exhibit something strikingly spectacular seeing that it feels hollow and looks much like a cookie cutter headset – but it's very light weight.
Thanks to the rubbery ear buds with loops, it provides for a sufficient snug fit without the aid of the ear hook. Conversely, you'll be required to clip it on if you prefer using the standard ear bud – but still, it comfortably hugs onto your ear without becoming too irritating during long usage.
On its sides, we're presented with an
LED light indicator
and
power switch
which conveniently allows you to confirm for sure if it's on or off. Additionally, we find the distinctive feeling and adequately sized volume rocker as well. And thanks to its noticeable talk button, you won't have to fumble around with your finger to find its placement. In the rear, the
microUSB
not only accepts power to charge the headset, but it's also the connection for the included wired headphones to enable stereo usage. Finally, there is one pin-hole for the microphone found towards the end of the boom while another one is located in the surface near the
multifunction button
.
Recommended Stories