Samsung HM3600 Review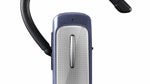 Introduction and Design:
Road warriors beware, the
Samsung HM3600 Bluetooth headset
just might be the perfect solution for those who yearn for a long lasting device that is ideal for those extra-long conversations. Likewise, it seems to pack a decent mix of customary features with its $59.99 price point – such as built-in voice prompts, dual-microphones for noise & echo cancellation, multipoint technology, and an "ultra-comfortable on-ear design" that minimizes ear fatigue during prolonged usage. With its touted easy on the ear design, it just might be suitable for almost all occasions, but we're intrigued to see how it stands. Packaged along with the headset are the wall charger, removable earhook, and user manual.
Taking the conventional design approach, the HM3600 doesn't particularly come off as one fashionably chic looking headset – especially with its rectangular shape and rounded corners. Comprised out of a blue and silver patterned plastic body, which again contributes to its ordinary looks, it naturally makes for one light weight headset. Interestingly enough, it relies on a rotating pivot joint, which is rarely in use with most headsets, and holds the earhook in its place.
Painfully, the adjustable pivot joint doesn't particularly allow the earhook to sufficiently latch onto our ear. And to make matters worse, the oversized earpiece barely hugs closely to the side of our ear, and in most instances, it simply just hangs loose.
Alongside the
front edge
of the headset is the raised and narrow looking multi-function talk button that's fittingly distinguishable to feel out with our fingers. Additionally, we find one of the microphones positioned above it, while the other is obviously placed at the
bottom
tip. On the
left edge
is the separated volume rocker that's prominent and easy to press, while the power switch and LED indicator are placed along the
right side
. Meanwhile, the microUSB port is accessed by removing the plastic flap covering it in the
rear
.
Recommended Stories