Samsung Gravity Q Review
22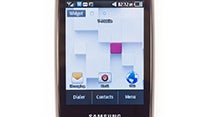 Introduction
Smartphones, smartphones, smartphones, that's what it seems like what we're bombarded with all the time. As much as they provide a ton of features, some people just prefer the simple things – and that's where the
Samsung Gravity Q
comes to mind. Being a quick messaging device, it means that it doesn't have as many of the complexities of today's smartphones. However, are the compromises just too much to swallow?
The package contains:
microUSB cable
Wall Charger
Quick User Guide
Important Safety and Handling Information
Design
There's nothing particularly pretty here folks, as the Gravity Q looks and feels like the cheapo smartphones that tend to occupy the bottom of the barrel from Sammy's camp. Indeed, its design is boring and lacks any pleasant cues, but at least it exhibits a bit of sturdiness with its all-plastic construction. We'll give it that it's compact to hold in the hand.
Taking a quick tour around the body of the handset, we're presented with all the usual ports and buttons. For a quick messaging device and all, it's great to find a microSD card slot on board with this. In the rear, it's sporting a fixed focused 2-megapixel camera and a removable 1000 mAh battery.
Display
Ouch! Our eyes writhe in pain looking at the low quality display on the Samsung Gravity Q. To be honest though, it's something we expect, seeing that it's a 3-inch 240 x 320 (QVGA) TFT touchscreen on board here, which is sorely lacking in the details. At the same time, its bland color reproduction doesn't help either, as it easily washes out when it's tilted slightly offset. Initially, we thought it was going to be a resistive screen, but surprisingly enough, it's a capacitive one.
Keyboard
Thankfully, there's a snappy feel when the landscape keyboard is opened up to reveal its 4-row layout. The feel isn't particularly great, since buttons are nearly flush and the spacing between them is minimal, but after a bit of patience of practice, we're able to knock out a few sentences with few issues.
Samsung Gravity Q 360-Degrees View