Samsung CorbyTXT B3210 Review
2

Samsung CorbyTXT B3210 is a global GSM/EDGE phone. It can be used with AT&T and T-Mobile USA

Introduction:
Undeniably, the Samsung Star S5230 has been a pretty successful device so far with total sales of over 10mln units. With the release of the Corby S3650 this fall, the manufacturer took another step on the path to conquering the market of affordable handsets with a cell phone aimed at people that normally remain out of the spotlight - the young. The device won over quite a few hearts and naturally, the manufacturer didn't linger over its decision to come up with new members of the Corby family. Most of them are targeted at people who prefer texting to verbal means of communication, not to mention the former option is all the rage these days.
What´s in the box of the
Samsung CorbyTXT B3210
:
The Samsung CorbyTXT B3210
Charger
Stereo headset
User guide
Leaflets
Design:
The
Samsung CorbyTXT B3210
comes with a BlackBerry-like design and feels pretty comfy in yourhand. Its overall dimensions are pretty much the same as these of the
BlackBerry Curve 8520
and it´s slightly bulkier than the original Corby S3650.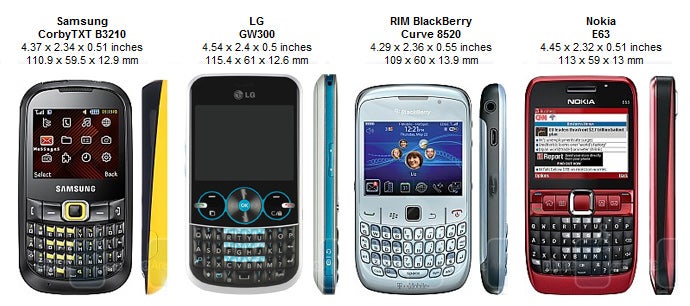 You can compare the Samsung CorbyTXT B3210 with many other phones using our
Size Visualization Tool
The
phone body
is made of plastic that feels pleasing to touch and the set comes boxed with two extra back panels that give you the opportunity to alter the appearance of the handset in a snap. We prefer the yellow color solutions, because they go perfectly with the motley elements of the buttons on the front side. Speaking of them, we need to point out that older people or anyone with thicker fingers might face certain troubles using the keyboard. This, however, is not an issue for youngsters, because the keys are slightly slanted to one side. It seems the manufacturer has borrowed the idea from certain BlackBerry handsets, but we don´t really like its implementation in the case of the CorbyTXT – the BlackBerry Curve 8520 is almost the same size and its keyboard is far comfier.
The screen measures just
2.2 inches
and comes with the modest native resolution of 220x176 pixels. Icons and menus appear pixelated and sadly, the display gets virtually unusable in direct sunlight. Its only advantage is called properly saturated colors indoors.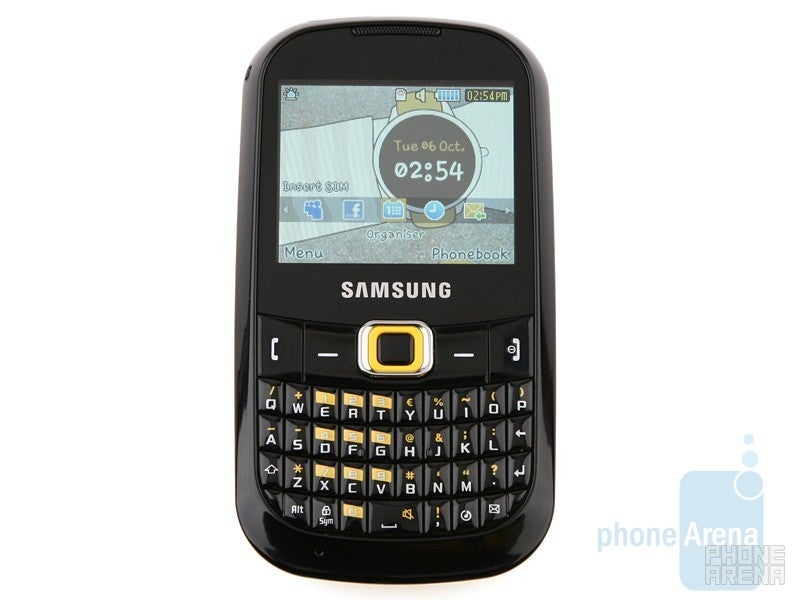 The screen of Samsung CorbyTXT B3210is just 2.2 inches
Did you notice the Samsung CorbyTXT is equipped with a microSD slot? We doubt that, because it´s well hidden under the SIM card slot, which is by no means handy.
Samsung CorbyTXT B3210 360 Degrees View: Recommended Stories