Motorola V60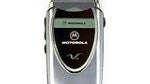 Sleek and sophisticated. The Motorola V60 is the perfect combination of form and function. Intuitive, time-saving technology includes the new Motorola user interface for improved navigation and visual cues, as well as voice activated dialing. With its ergonomic, compact design and lustrous, metal housing, the V 60 is an achievement in style and performance!
The device has everything you need in a mobile phone. Packed with style and excellent software. The new generation of Motorola software is a winner once you've got your head around it. Slightly difficult to navigate but well worth the extra time it takes to understand it. You can keep your flashy lights & plastic. This phone has class.
As noted, instead of a plastic casing, the trimode (CDMA 800/CDMA 1900/AMPS) V60c has an anodized aluminum casing that we're happy to report seems scratch resistant. The phone also features a sturdy, retractable antenna and good-sized, well-positioned keys. Put it all together and the phone measures 4.5 by 3.42 by 1.77 inches and weighs 3.6 ounces. Expensive at the moment but worth a look. The v60 is definitely a high-end phone and has been introduced in early 2002.