Motorola CHARM Review
7

Introduction:
Without a doubt, there surely have been many people out there clamoring to see an Android smartphone that employs that typical BlackBerry look with its signature stationary portrait style QWERTY form factor. The yearnings of many have been heard by Motorola as they've addressed this much wanted design with the
Motorola CHARM
for T-Mobile. Since this is a company that's been experiencing a resurgence of late, thanks to a couple of recent top notch Android smartphones, the CHARM is the company's unique spin on the much wanted form factor that's been clearly non-existent with the platform. Let's find out if the undeniably charming looking Motorola CHARM MB502 has enough magic in its housing to enchant consumers to side with it.
The package contains:
Motorola CHARM
microUSB Cable
Wall Charger
Stereo Headset
Start Guide
1420mAh battery
1130mAh battery
2 Rear Covers
2GB microSD card
Design:
Can we just say wow for a second; especially when it's reinvigorating to finally see a portrait QWERTY Android handset stateside? With a quick first glance, some would expect to think of the CHARM to be more of a feature phone, but upon closer inspection, it radiates a quality design that makes it so refreshing. Although it sports a plastic exterior, we like how the rear is coated with that all too familiar soft touch material that complements the silver colored bezel outlining the handset. Sure it's somewhat boxy looking, which of course tastefully makes it appealing, but it still feels compact enough (0.45" thick) in the hand and doesn't feel that heavy at all (3.88 oz). Although not as tough as the DROID devices, the CHARM still feels solidly constructed all around to boost your confidence about its plastic exterior.

You can compare the Motorola CHARM with many other phones using our
Size Visualization Tool.
In keeping the cost of the handset very low, Motorola opted to utilize a
2.8" TFT touchscreen
that unfortunately puts out a lackluster QVGA resolution (320x240). Granted though it's capacitive technology, which is responsive to the touch, its quality is almost appalling as text is extremely fuzzy looking while colors are washed out. It also experiences some viewing angle problems and is not very viewable under bright sunlight. Yeah it would've been nice to see it get bump up to an HVGA resolution, but we suppose it's fitting due primarily to its inexpensive target.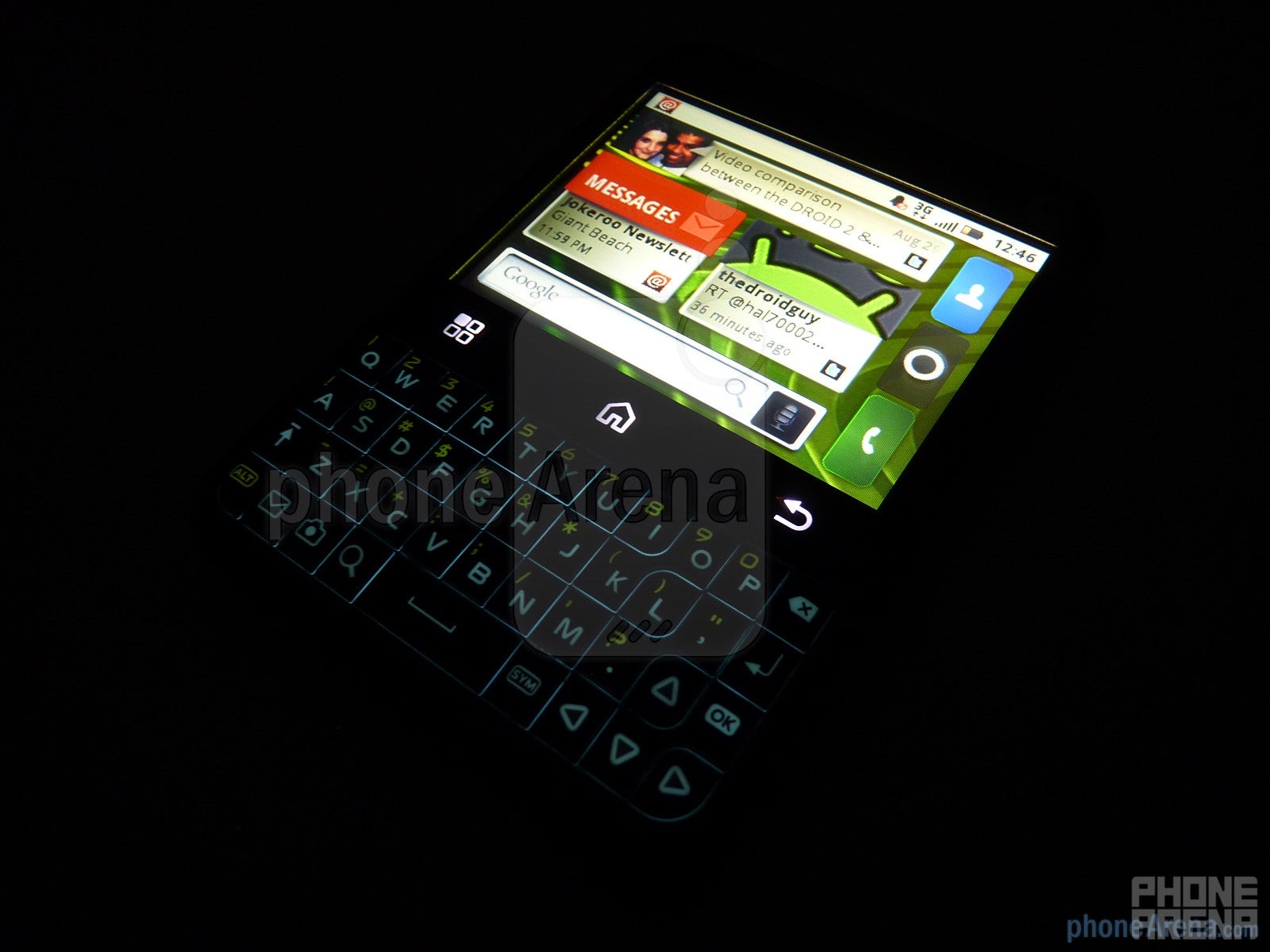 Strangely, we actually don't mind seeing the
three touch sensitive buttons
dominating the area directly beneath the touchscreen and above the QWERTY – that's because we didn't find ourselves accidentally activating them. On the left edge, you've got the typical microUSB port and decently sized volume rocker that offers a decent response when pressed. While on the top side, you'll find the 3.5mm headset jack and dedicated power button. Taking a peek at its rear, we're presented with the 3-megapixel camera, cutout for the speakerphone, and the somewhat novel (at this point) track-pad which Motorola aptly calls the "BACKTRACK." Removing the rear cover requires a lot of force since you'll have to yank it off, but once that's accomplished, you'll have access to the microSD card slot, battery, and SIM card slot.
Just when people were beginning to see RIM as the only one who can craft some stunning
portrait style keyboards
, Motorola does a fantastic job with the one on the CHARM. Although there is no spacing between buttons, they're raised enough and curved toward the middle to provide a good distinction between your thumbs. The soft plastic keys also offer a good tactile response when pressed, but it's the layout of the QWERTY that makes it so easy to use – it's actually similar to what you see on a regular keyboard. Additionally, there are some dedicated buttons on there that will give you access to specific functions and even 4-way directional keys to easily move around the cursor when typing a message.
Motorola CHARM 360 Degrees View: Recommended Stories