Lenovo Yoga 2 Pro Review
7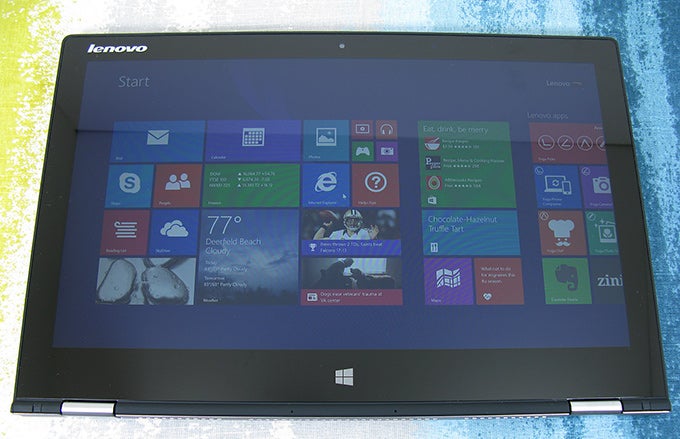 Introduction
With the introduction of Windows 8.1, Lenovo is refreshing their "Yoga" series of ultrabooks, with the Yoga 2 Pro being at the higher end of the hybrid line, directly competing with the
Microsoft Surface Pro 2
and Samsung Ativ Book 9 Plus. With that in mind, there are several Yoga 2 models, beginning at $929 for the base model with an Intel i3-4010U 1.7GHz Processor, 4GB RAM, 128GB SSD and Windows 8.1 64-bit, $1149 will get you an i5-4200U 1.6GHz Processor, 8GB of RAM, and 256GB SSD, our review unit at $1299 comes with an I7-4500U 1.8GHz Processor, 8GB RAM, and 256GB SSD, lastly the most expensive tops out at $1599 with a larger 512GB SSD and Windows 8.1 Pro. But one nice feature between all of them is the large 13.3" QHD+ LED display with a crystal clear resolution of 3200x1800 pixels. All of this combines to give the Yoga 2 Pro enough edge to compete with other high-end ultrabooks and tablets on the market.
Included in the retail package is the Lenovo Yoga 2 Pro, wall charger, and documentation.
Design
The overall design of the Lenovo Yoga 2 Pro gives it a premium look and feel, with rounded edges and a soft-touch finish on the top and bottom surface, making it fingerprint and smudge resistant.
For ports, on the left side is the AC power, USB 3.0, microHDMI output, and SD card reader, with the headphone/mic, USB 2.0, volume rocker and power button on the right side. The only thing we did not care for is that when inserting a SD memory card, half of it sticks-out from the side, instead of going all the way in.
Unlike the Microsoft Surface Pro 2 and Asus Transformer line, which have a detachable keyboard, the Lenovo Yoga 2 Pro's keyboard is not removable, but can open up to a full 360 degrees. This give the device the flexibility to be used in 4 modes: laptop, stand, tent, and tablet mode. While this is versatile, it still adds some extra weight and bulk if using it just as a tablet, with the Yoga 2 Pro coming in at 0.61" thick and 3.06 pounds (1390g), while the Microsoft Surface 2 Pro is less at 0.53" think and 907g (without keyboard).
Keyboard
We like the overall design and layout of the keyboard on the Yoga 2 Pro, as is it similar to a "traditional" laptop. They keys are large and well-spaced, so typing is easy, and they also have the same soft-touch coating on them that is used on the rest of the device. One nice perk is that the keyboard has a white LED backlight that you can turn on or off, so typing in the dark isn't a problem. Located below the keyboard is the capacitive trackpad, which measures 3.5" x 2.5". It works well, as it's not overly-sensitive, and is precise with the on-screen mouse movement.
Display
The most eye-catching feature on the Yoga 2 Pro is its 13.3" IPS LCD touchscreen display, as it comes with an impressive QHD+ 3200x1800 pixel resolution (276 ppi), which happens to be the same display type used on the Samsung Ativ Book 9 Plus. To put this into prospective, a standard 1920x1080 HD display has a total of 2 million pixels, while the Yoga 2 Pro has 5.7 million pixels. This means that text and images are super sharp and clear. Colors are also fully saturated and the display has good viewing angles. Its LED-Backlit with 350 nits brightness is good for most conditions, but when used outside in direct sunlight, it can be hard to see at times.
Recommended Stories