BlueAnt T1 Review
2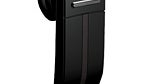 Introduction and Design:
You could easily argue that Arnold Schwarzenegger exuded an intimidating persona with his character in The Terminator, but we'd imagine that futuristic super robots like that would still be conscious about the kind of Bluetooth headsets they'd sport. So that's where probably the
BlueAnt T1
would come into mind as it perfectly establishes itself as a practicable and rugged solution to keep our would be some day destroyers in keeping a clear conversation amongst other terminators. Boasting dual microphones and Voice Isolation Technology, this versatile Bluetooth headset is packing enough features and extra goodies to keep its $79.99 pricing very alluring. Packaged with the BlueAnt T1 are 2 silicon sleeves, 2 ear clips, 5 ear buds, microUSB cable, AC adapter, and a quick start guide.
Although it might look perfect for terminators, the BlueAnt T1 might not be the most fashionable thing to lay on your ear for the couture type. Sporting some hard lines and angular cuts, this all plastic device doesn't hide the fact that it's a headset with а rough industrial design. Despite its average size, its plastic housing makes it very lightweight and comfortable. And thanks to the included siliconе sleeves, it protects the headset from minor drops and keeps moisture out.
Unfortunately, the quaint
ear buds
are too soft and compress effortlessly in trying to stay put in the ear – which makes it feel like it's falling out. However, the clear plastic ear clip manages to remedy the problem, but its fragility makes us question its handling in the long term. Even though the soft feeling ear buds lack that sense of snugness in the ear, it makes for a comfortable fit when using the headset for longer periods of time.
There's no mistaking where the separated volume up and down
buttons
are, which offer a moderate amount of tactility, but the
on/off switch
is located in an inconvenient spot that requires you to remove the headset from your ear to access. Meanwhile, we find a very easy to press
multi-function button
on the front which accomplishes a bunch of tasks, while a small wind guard strip goes down nearly its entire length. Furthermore, there's an
LED indicator
embedded within the portion of the wind guard that's closest to the multi-function button. And finally, a
microUSB port
is conveniently located all by itself in the rear of the device.
Recommended Stories