Asus MeMO Pad Smart 10 Review
7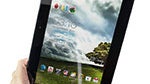 Introduction:
Never afraid to experiment with different form factors and styles, we've seen Taiwan based manufacturer Asus frequently delivering a wide range of tablets that fit different lifestyles and models. At one extreme, they're renowned for coming to up with fantastic and memorable slates like the Asus Transformer Pad Infinity, while on the other, they never shy away from going with something more modest – like the
Asus Transformer Pad 300
. Going back to the latter premise, the recently available 10.1-inch slate in the
Asus MeMO Pad Smart 10
aims to win over people with its ample hardware and affordable price point.
The package contains:
microUSB cable
Wall Charger
Quick Start Guide
Product Safety and Warranty Guide
Design:
By no means is the MeMO Pad Smart 10 a premium slate, especially when you factor in its average price point of $300, since its design language follows similarly to what we've seen in the Transformer Pad 300 already. Employing a 9.9mm thin all-plastic casing, which strangely gets dirtied very easily, we're humbled by its light weight (580 gr) and rounded edges – making it very comfortable to grasp with both hands. Overall, it chooses to stick with a cookie cutter approach with its design, which makes it all too conventional, but at least it doesn't entirely come off as being cheapo.

Much like the other Android slates from its stable, the MeMO Pad Smart 10 maintains a very clean appearance on the surface, as the only thing evident from up
front
are the "Asus" logo and front-facing 1.2-megapixel camera.
Around the edges
of the tablet, we're thankful to know that it doesn't skimp out on the usual ports that are typically akin to higher end models – like its microSD card slot and microHDMI port. In addition, we spot its tactile and distinctive power button and volume control, microphone, 3.5mm headset jack, and microUSB port for charging/data connectivity.
Flipping it onto its
back
, there's a 5-megapixel auto-focus camera there enabled for 1080p video recording, but lacks an LED flash. Along the left and right edges, the tablet's left/right speaker grills are slightly recessed – giving it stereo output.
Display:
Indeed, it's not something galvanizing amongst other things, but the
10.1-inch WXGA 1280 x 800 IPS LCD panel
of the MeMO Pad Smart 10 is still pleasant enough to accept. For most people viewing the tablet from a normal distance, they shouldn't find much trouble making out certain things – and that's despite having a pixel density of 149 ppi. On the color reproduction side, it lacks the delicious iridescent tones seen with other panels, but at least it doesn't exhibit too much distortion, which is attributed to its 170-degree wide viewing angles. Using it outdoors though, we find the need to shield it from the sun in order to view things properly. All in all, we're totally not blown away by it, of course, but like we said, it's ample enough for us to like.
Recommended Stories