T-Mobile will treat eBay shoppers, sports fans, and film buffs to some sweet perks next Tuesday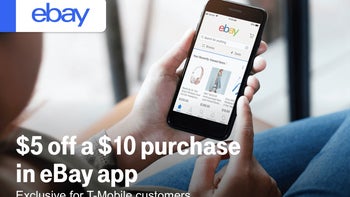 It's only Wednesday, but T-Mobile customers probably know it's never too early to gear up for a fresh batch of cool perks offered as part of the "Un-carrier's" weekly loyalty-rewarding program. Next Tuesday, every single T-Mo subscriber (yes, even those still stuck with
Simple Choice plans
) will be eligible for
an unusually long list of freebies and discounts
, starting with
Taco Bell
,
Dunkin'
, and Shell's recurrent special offers.
Redbox is next on the list of T-Mobile Tuesdays sponsors with a gratis 1-night movie disc rental, while eBay shoppers will no doubt be excited to hear they can get $5 off a $10 purchase in the official app of the massively popular auction and e-commerce platform. Curiously enough, we don't see the words "and up" listed for this deal, so you may need to buy an item that costs exactly 10 bucks to score a 50 percent discount courtesy of T-Mobile.
But wait, there's more. You can actually save four times that much on sports gear if you follow Magenta's promotion redemption instructions for the '47 e-shop on April 23. If you're not familiar with that brand, you might want to check out some cool items you can use that $20 discount towards, like baseball hats, football-themed T-shirts and sweatshirts, or various types of apparel that are likely to appeal to hockey fans. The company maintains official licenses to create and sell its gear for the MLB, NFL, NBA, and NHL, mind you, which arguably makes this the headliner of T-Mobile's upcoming roster of Tuesdays perks.
Remember to download the app to claim these awesome offers if you haven't done that already, in which case you may not want to think about
how much cool
(
and valuable
) stuff you've been missing out on all this time.