Last Tuesday, T-Mobile and Taco Bell set some new records
2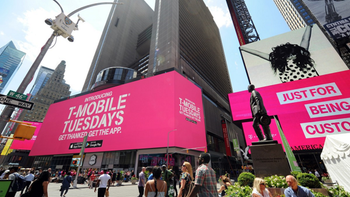 T-Mobile Tuesdays is the program used by the carrier since 2016 to thank its ever growing number of subscribers.
Today, the nation's third largest wireless provider announced
that last Tuesday saw a record number of customers snag the freebies and discounts that are part of the program every week; the previous record was topped by more than one million deals claimed.
You also might recall that on Super Bowl Sunday, T-Mobile advertised that it would
offer subscribers a free Taco from Taco Bell every week
. This promotion helped the restaurant chain score its highest daily and hourly online sales ever. And the T-Mobile Tuesdays app, which is the hub of the program, hit #1 in the Apple App Store and Google Play Store Lifestyle categories.
And now, T-Mobile customers are getting gas (not from the Tacos). Every week, T-Mobile and Shell will take 10 cents a gallon off the price of fuel at Shell (up to 20 gallons). And inside the T-Mobile Tuesdays app, subscribers are getting the opportunity to purchase stage-front tickets to Ariana Grande's sold out Sweetener U.S. tour. Tickets will be available for purchase 30 days prior to each show starting Tuesday, February 19. To snag these ducats, open the T-Mobile Tuesdays app, and click on the singer's photo to be directed to the Live Nation site so the tickets can be purchased.
"Our customers are a big freaking deal, so we're gonna keep bringing them big…freaking…deals. When we say we won't stop, we mean it – even at the pump or the amphitheater. Thanks to our partnership with Shell, just pull up, fill up and baller-up -- you're saving money every week, just for being with T-Mobile, and only T-Mobile customers can unlock VIP seats at sold-out Ariana shows!"-John Legere, CEO, T-Mobile
Since the program started two years ago, T-Mobile says that it has distributed "over 205 million fun freebies and deals." Industry analysts have calculated that this works out to $996 in freebies and discounts offered to each T-Mobile ONE customer every year.