T-Mobile has by far the best perks and benefits among the big four carriers
15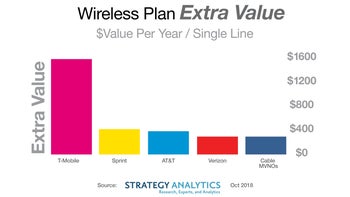 T-Mobile might not be America's top wireless service provider,
with or without an approval
for its
long-proposed Sprint merger
, but undoubtedly, the "Un-carrier" has the most aggressive marketing of all big four US networks.

CEO John Legere can sometimes go overboard with his contempt for Verizon and AT&T, often dubbed "dumb and dumber" as T-Mo's skipper attempts to highlight the weaknesses and greed of the industry's duopoly.
Then again, it's hard to argue with the incredible value offered by the impressively affordable T-Mobile One plan. We're not just talking unlimited talk, text, and data for $70 a month on a single line, as
Strategy Analytics
, a market research firm in no way affiliated with T-Mobile, has found an additional $1,550.71 is available in annual perks and benefits. Yup, one thousand, five hundred and fifty dollars. US.

Of course, all carriers include certain little extras and freebies in their standard subscription prices. For instance, AT&T's Unlimited & More Premium plan comes with a choice of HBO, Starz, Showtime, Cinemax, Amazon Music Unlimited, or Pandora Premium access on the house. Meanwhile, Verizon throws in complimentary cloud storage and a few international TravelPasses for "Above Unlimited" customers.
All this stuff obviously adds up without you even realizing, although arguably the greatest perk you get just for being a T-Mobile user is the
Tuesdays freebie program
. Each and every week, popular brands like Dunkin' Donuts, Shell, Live Nation, Pandora, and
20th Century Fox
join forces with T-Mo to extend the carrier's thanks for subscribing, and at least in theory, that can amount to a whopping $966 this year alone.
It goes without saying how unrealistic it is to expect anyone to claim
all
the T-Mobile Tuesdays gifts, so realistically speaking, the extra value actual T-Mobile One subscribers get is significantly lower. But the included taxes and fees are cool, saving you an estimated $66.96 a year on average, while the unlimited data and texting offered in over 210 countries around the world under the
Simple Global
banner is worth about $85.
Recommended Stories