Family-friendly Spotify Kids launches in the US with better privacy, curated content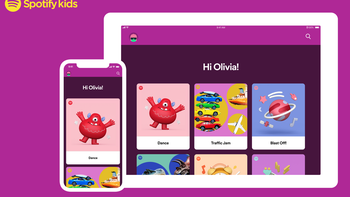 After launching the app in Ireland and subsequently rolling it out in select other countries, today Spotify has released the Spotify Kids app in the US for both Android and iOS users.
The app, which is a standalone one, is linked directly to a Spotify Premium Family account at all times. Kids that use it will instantly gain access to a protected environment complete with only human-curated content for children.
Like any other Spotify Premium experience, there are no ads inside the app. Parents can also rest assured because their own recommendations in the regular Spotify app won't be influenced by what kids listen to, and the Spotify Kids boasts COPPA-compliant privacy protection.
Additionally, parents are allowed to switch between tracks and playlists for younger kids or older kids at any time.

The Spotify Kids app is available to download now through the Google Play Store on Android devices and the App Store on iPhones and iPads. To make use of it, parents need to create a Kids account under the Spotify Premium Family account.