This 400GB microSD card is just $82 on Amazon for a limited time!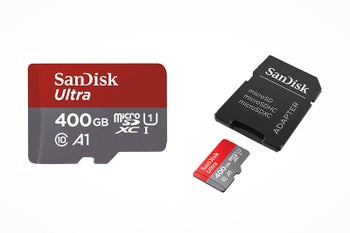 If you're looking to add a bit more storage to your mobile device — if your device even allows it — we've got a deal for you. For a limited time, Amazon has various SanDisk microSD cards on sale, including the beastly 400GB model.
Why would you need that big of an SD card? Well, if you have a phone with expandable memory, or a digital camera, or a Nintendo Switch, this card is a perfect fit for storing all of your stuff on it. But most important of all, this 400GB SanDisk microSD card is now just $82 on Amazon! That's a discount of 67% on the regular price of $167!
This is a Class 10 microSD card with read speeds of up to 100MB/s and it's perfect for shooting Full HD videos, though it may not be quite up to snuff if you're recording in 4K. For storing apps, games, or large video files, however, it's more than quick enough to operate without any slowdowns whatsoever.
This particular model had a similar crazy discount last Black Friday and all the units were sold in the blink of an eye. So, if you're looking for a huge microSD card on the cheap, head over to Amazon by following the link below!