Two Galaxy Watch Active models get massive discounts in 'grade A' condition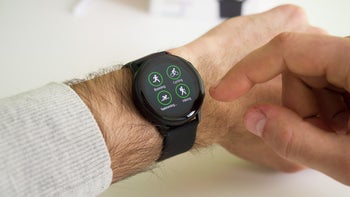 The fact Samsung has released a
second Galaxy Watch Active generation
mere months after
the first edition
might suggest the original fitness-centric model was a bit of a dud. But at a starting price of $280, the
Galaxy Watch Active 2
seems to be targeting a slightly different audience from that of its $200 predecessor.
Even better, if you can learn to live with a refurb, the
early 2019-released smartwatch
is frequently on sale at substantial discounts from reputable retailers and trustworthy eBay vendors. VIPOutlet is certainly part of the latter group, boasting a 97 percent positive feedback score based on more than 100,000, yes, 100,000 customer ratings from the last 12 months alone.

This top-rated eBay seller has a "grade A" Galaxy Watch Active technically listed at $132.34 in a rose gold flavor, but for a limited time, you can get an extra 15 percent discount simply by adding the refurbished item to your cart. That means you can currently pay a measly $112.49 for an eye-catching variant of this sporty wearable device backed by a 90-day seller warranty.
In case you're wondering, grade A condition essentially means you won't be able to notice any cosmetic difference between these ultra-affordable units and brand-new devices sold by Samsung along with a standard 1-year manufacturer's warranty. VIPOutlet claims its refurbished products have no noticeable "defects, blemishes, dents, scratches, or signs of age", having been restored to meet the highest "manufacturer quality standards."
It goes without saying the deeply discounted Galaxy Watch Active is also "fully functional", and in addition to free nationwide shipping, you get free 30 day returns if you're not happy with how the smartwatch looks or works in real life.
Meanwhile, if you don't want to stand out too much during your morning run or regular gym visit, the same extra 15 percent price cut applies to a slightly lower-key black Galaxy Watch Active model technically listed at $149 after an initial $51 markdown. That brings the price of this particular variant all the way down to $126.65, which is also nothing to sneeze at.