Galaxy Note 9 scores $250 discount with Verizon installments at Best Buy
3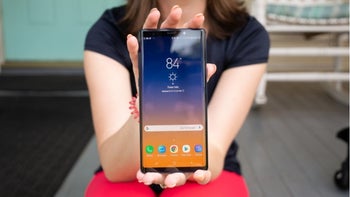 If you haven't yet taken advantage of one of the many recent Galaxy Note 9 discounts offered by various
trusted eBay sellers
, major retailers like
Best Buy
and
Amazon
, and even
Samsung
itself, there's a sweet new deal you should consider... if you don't mind signing up for Verizon device payment plans.
Best Buy
is currently letting Big Red subscribers shave a cool $250 off the list price of Samsung's latest (and greatest)
S Pen-wielding high-end phone
, which means you only need to cough up $31.24 a month for two years now.

That's down from the standard monthly payment of $41.67, amounting to around $750 instead of a whopping (and almost wholly unnecessary) $1,000. The same $250 discount also applies to the 512GB variant in your paint job of choice (Ocean Blue, Lavender Purple, or Cloud Silver), with $41.66 left to be paid every month for a grand total of $1,000 (down from $1,250).

Unfortunately, the unlocked Galaxy Note 9 still costs $1,000 and $1,250 with 128 and 512 gigs of internal storage space respectively. Meanwhile, the AT&T and Sprint-locked models are themselves marked down with monthly installment plans, but the two smaller carriers' customers are only looking at $150 savings.
If you don't need a stylus or a gargantuan battery, the
Galaxy S9 and S9+
can be had with the same $150 and $250 discounts from Best Buy right now under similar terms and conditions. That's $250 off for Verizon device payments, and $150 with AT&T or Sprint contracts. No trade-ins required, no (other) strings attached. No expiration date listed either.