Samsung Electronics Chairman Lee is named by South Korean police as a possible tax evader-again
33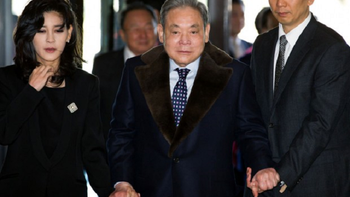 A few days ago
Jay Y. Lee, the Vice Chairman of Samsung Electronics, was released from prison
after serving 353 days of a five year sentence for bribery and embezzlement. Now, he is a free man although he is on probation for four years. The Seoul High Court overturned the original court ruling and cut Lee's sentence to two and a half years before granting him early release and probation. But while Lee is now out of prison, his father might be moving in.
Samsung Electronics Chairman Lee Kun-hee, Jay Y. Lee's dad,
has been hospitalized since suffering a heart attack back in 2014
. Now, South Korean police are calling the Chairman a suspect in a tax evasion scheme that saved the 76-year old from paying 8.2 billion won ($7.5 million) in taxes. Additionally, the police say that Lee Kun-hee used bank accounts belonging to employees that contained 400 billion won ($367.3 million USD).
The executive has been in the same situation before. Back in 2009, Lee was convicted of tax evasion after using bank accounts held by "trusted employees." He was later pardoned. The current investigation started when police heard allegations that Samsung funds were misappropriated by the company's Chairman to pay for renovation of his and other family members' residences.
"Samsung chairman Lee Kun-hee and a Samsung executive managed funds in 260 bank accounts under names of 72 executives, suspected of evading taxes worth 8.2 billion won."-Korean National Police Agency
Samsung refused to comment on this matter.
source:
Reuters