myChevrolet integrates OnStar with Android & iPhone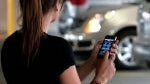 Back in January, we heard that
Chevrolet's electric car
, the Volt, would be able to integrate its OnStar functionality with your smartphone. Well there's good news from GM, as now any OnStar equipped model will be compatible with apps for Android devices and the iPhone.
Users of the myChevrolet and OnStar MyLink apps will have access to
location-based
functions, vehicle information, and OnStar connectivity features. Chevrolet marketing VP Chris Perry celebrated that "This is a great example of how we are focusing on smart technologies that address customers' needs." We agree; it's great to see our lives converge at our mobile devices.
The location link will allow the user to save their
parking spot
via GPS, and set a timer and alert for the parking meter. They can also pin a photo to the map for help beyond the GPS guidance. Users can also use the app to call for roadside assistance, locate a dealership, and even set up a service appointment.
By scanning the Vehicle Identification Number, the users can have access to an electronic version of the owners manual, with quick links to frequently asked questions (i.e. how to set the radio, how to change the tire). Sure, you could use the regular manual, but where's the fun in that?
While most of the aforementioned features aren't exclusive to the myChevrolet app, it does bring some pretty cool OnStar functionality. The driver can unlock/lock their doors and start the engine from the phone. That's great for those of us who couldn't possibly forget the phone, but somehow manage to leave the keys in the car. You can also view handy info like fluid levels, oil life, and tire pressure when you're away from the vehicle.
myChevrolet and the OnStar MyLink apps are available now from Android.com and Apple.com.
source:
Chevrolet
via
SlashGear