iPhone 9 and iPhone 9 Plus size-compared to iPhone X (3D printed dummies)
28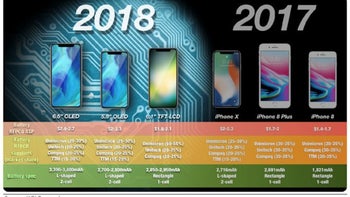 This year, as always, we expect Apple to announce its new iPhone models some time around mid September. Rumor has it that we will see not two but three new iPhones — all of them would rock that new design that is currently exclusive to the
iPhone X
, but will have minor differences that manage to put them in wholly different price tiers.
While we are not clear on all of the nitty-gritty details, the rumor mill does seem in agreement that the "cheapest" new iPhone will have a
6.1-inch LCD display and only one camera
on the back, while the most expensive iPhone Xs Plus (or iPhone 9 Plus or however it ends up being called) will have a 6.5-inch OLED screen and a dual or
even a triple camera
on its back.
Since the design plans for the new Apple handsets have been leaked and talked about for so long, some leaksters felt confident enough to 3D print their own dummy units that represent the shapes and sizes of the new iPhones.
Here, we have a short video showing two of these dummies — they are supposed to showcase the cheapest and most expensive new iPhone models. You will see them compared to the current iPhone X and an older
iPhone 6
, just to get a good sense of their proportions.
With these tiny bezels, even the Plus seems pretty grip-friendly! What say you?