iPhone 4S might come to Boost Mobile in September
31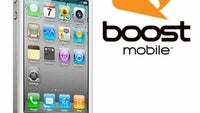 Yesterday we reported that
Cricket will start offering the iPhone 4S
and its predecessor starting June 22. Thus, it will become the first pre-paid wireless carrier in the U.S. to offer Apple's smartphone. However, it won't be the last, if this recent rumor is on the right track.
According to a
"trusted source"
for
TechnoBuffalo
, the
iPhone 4S and iPhone 4 will be available on Boost Mobile
later this year. That is expected to happen in early September, the tipster clarifies. Surely, this is good news for iPhone fans who prefer the convenience of pre-paid plans as they will have several carriers to choose from. Also, Boost Mobile has this pretty popular $50 Unlimited plan with Shrinkage – the rate goes down to $35 monthly after 18 months, as long as subscribers pay their bills on time. If the iPhone can be paired with this plan, now that would be one pretty tempting deal. How much the
iPhone 4S
and
iPhone 4
will cost on Boost Mobile is not clear, but it wouldn't be surprising if their prices stand at about $500 and $400 respectively, just like what Cricket is charging.
Of course, this is but a rumor, so don't get your hopes high just yet. It will likely be another couple of months or so before we know whether Boost Mobile will really carry the iPhone or not.
Recommended Stories