iPhone 3GS shortages seen in some areas
1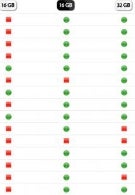 Last year when the iPhone 3G was hard to find in stores, Apple created a widget that showed what the level of iPhone inventory was in different parts of the country. Last seen a year ago, the tool is back again as heavy sales of over 1 million units since launch have created spot shortages of the touchscreen handset.
When the tool returned last Friday, shortages were seen in only 29 of Apple's 257 stores. By Sunday morning, all but 6 stores were flashing the red "Sold Out" lights. Kentucky's only Apple store in Louisville was completely sold out of the device. With low stock seen for all versions of the phone, the "entry level" 16GB seems to be facing the strongest demand. In Texas, for example, 12 out of the 15 Apple Stores in Texas are sold out of the model.
The widget is more accurate this year as improvements have been made. While last year's numbers came from polling every store at the end of the day, this year the numbers are taken straight from Apple's internal point of sale computers which allows for hourly updates. AT&T's inventory is not part of these computations. And the older 8GB iPhone 3G is available at all Apple stores.
Apple iPhone 3GS Specifications
|
Review
source:
Fortune