iPad mini 2 images compare aluminum to space grey
20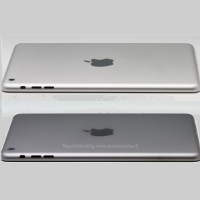 It's no surprise that Apple isn't going to stop with the iPhone when it comes to variations in color and we are likely to see at least a couple of options when it comes to the iPad as well. We aren't expecting the iPhone 5C color palette, but it looks like the iPad mini 2 at least will come in both the standard aluminum as well as Apple's new "space grey" color.
New images have come out showing the iPad mini 2 in aluminum as compared to the space grey color. As you can see it's a relatively subtle difference between the two options. Obviously, the space grey is darker, but it also looks like the Apple logo on the back has been shifted to black to complement the space grey. In fact, it looks like the Apple logo on the standard aluminum could be space grey itself.
There is still no word on if the new champagne color of the iPhone 5s will be making the move to the iPad or iPad mini. We should be about a month away from finding out though. The rumors are that Apple will be announcing the new iPads next month, and some are putting the date at October 15th.